Unlock the secrets to greater success with Dynamics Edge's Microsoft PL-100 Training to revolutionize you and your organization's productivity today!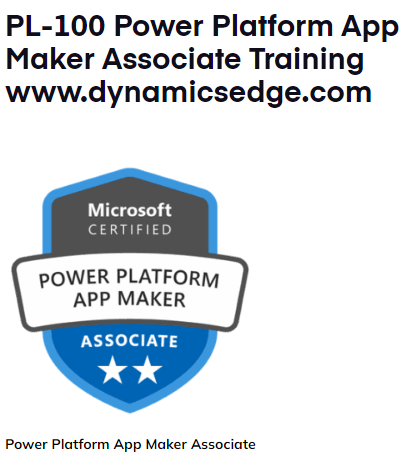 Make apps like you've never made apps before with PL-100! As a Microsoft Power Platform Apps Maker, you have the ability to design, develop, and deploy mobile apps easily using the suite of tools provided by the Power Platform.
A Canvas App is a customizable, low-code application built using the Power Apps Canvas App Editor, which allows users to create apps by designing and arranging elements on a visual canvas. The Canvas App Editor's main features include drag-and-drop components, pre-built templates, and connections to various data sources. This simplifies the app development process and allows users to create apps without extensive coding knowledge.
When building Canvas Apps, leverage Power Fx to create powerful expressions and formulas. Power Fx is a low-code, Excel-like language that allows users to easily define app behavior, data manipulation, and logic without having to write complex code.
Leverage new ChatGPT features in Power Platform, using Power Platform ChatGPT and Power Platform Copilot to streamline app development and improve user experiences. Power Platform Copilot is a tool that provides AI-driven assistance and guidance for app makers, helping them to optimize their apps, identify potential issues, and suggest improvements.
Become a Microsoft Certified: Power Platform App Maker Associate to demonstrate your expertise in using the Power Platform tools and enhance your career prospects. This certification not only boosts your credibility but also helps you learn to use the Power Platform more effectively by mastering its various components.
Develop microservices, automate workflows, and more without coding with Power Automate Cloud Flows! Power Automate Cloud Flows empowers users to create automated workflows between different applications and services, streamlining processes and improving efficiency.
As a Power Platform App Maker Associate, you will play a vital role in developing and deploying applications within your organization. By understanding PL-100 and leveraging its various components like Power Automate Cloud Flows, Dataverse, Dynamics 365, Power BI Dashboards, AI Builder models, Canvas Apps, Model Driven Apps, Power Virtual Agents Chatbots, and Teams, you will be able to make greater use of the Power Platform and create more powerful and effective solutions for your organization.
Microsoft exam PL-100 is designed to test your knowledge and skills in using the Power Platform tools and services. Passing this exam can lead to increased credibility, more job opportunities, and higher salaries as you demonstrate your expertise in the Power Platform ecosystem.
The PL-100 certification benefits include a deep understanding of the Power Platform tools and services, improved job prospects, and access to a community of certified professionals for networking and knowledge sharing.
When preparing for the PL-100 certification exam, consider utilizing Microsoft's official training resources, participating in study groups, and practicing with real-world scenarios to hone your skills and knowledge.
PL-100T00A, PL-100T00, and PL-100T00-A refer to the official Microsoft course for the Power Platform App Maker certification exam. This course covers various topics related to the Power Platform and helps prepare candidates for the exam by providing hands-on training and practical exercises.
Understanding PL-100 can help someone make greater, better use of Power Platform by providing a comprehensive understanding of its various components and how they can be used together to create powerful solutions. This includes leveraging Power Automate Cloud Flows to automate processes, using Dataverse to manage data, integrating Dynamics 365 for business processes, creating interactive Power BI Dashboards, building AI Builder models, and designing both Canvas and Model Driven Apps. Additionally, PL-100 provides insights into using Power Virtual Agents Chatbots and Microsoft Teams for seamless collaboration and communication across the platform.
Have a Question ?
Fill out this short form, one of our Experts will contact you soon.