Dynamics Edge offers PL-500 Training so you could be well on your way to boosting your  skills with our Power Automate RPA Developer training courses.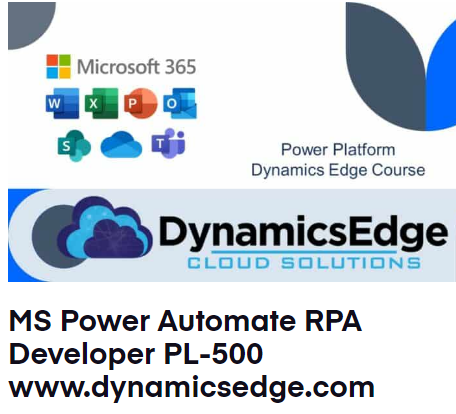 If you are looking for Microsoft dataverse power platform training then pl-400 training might be a better fit for you. Whereas PL-500 training is specifically for RPA.
As a Power Automate RPA Developer interested in pursuing certification in PL-500, you can leverage the powerful capabilities of Microsoft's Power Automate platform to streamline business processes, automate repetitive tasks, and enhance overall productivity. With a deep understanding of the platform, connectors, triggers, actions, and UI flow features, you could be well-equipped to create custom and advanced workflows that meet specific business needs.
Power Automate offers a cloud-based service that integrates with various services, including Office 365, SharePoint, Dynamics 365, and more, allowing you to create automated workflows for tasks such as data collection, notifications, data synchronization, lead management, invoice processing, and order fulfillment. These capabilities can help you automate complex workflows involving multiple steps and applications.
Robotic Process Automation (RPA) can increase productivity, accuracy, and efficiency by automating tasks like data entry, extraction, processing, report generation, inventory management, and quality control. As a Power Automate RPA Developer, you can use the platform's UI flow feature to create RPA workflows that automate tasks requiring user interactions with desktop or web applications.
The UI flow feature allows you to record your interactions with desktop or web applications and convert them into workflows, eliminating the need for complex programming or scripting. This feature is especially useful for automating tasks such as form filling, data entry, or web scraping.
As a Power Automate Developer, you should be knowledgeable in different connectors, triggers, and actions in Power Automate, enabling you to create custom workflows and troubleshoot issues. You should also be proficient in using expressions and conditions to create advanced workflows involving complex logic or decision-making.
Power Automate RPA Developers should have a deep understanding of the UI flow feature and can create custom workflows that cater to specific business needs. They should also be able to troubleshoot issues and errors in RPA workflows and optimize performance. By pursuing certification in PL-500, you could gain the expertise necessary to excel in this highly sought-after role.
In summary, obtaining the PL-500 certification and taking Dynamics Edge's PL-500 Power Automate RPA Developer Training Course can help boost your career by equipping you with the knowledge and skills necessary to develop and manage RPA workflows using Power Automate. You'll be able to help businesses streamline processes, improve efficiency, and reduce costs, making you a valuable asset in any organization. Your expertise in Power Automate RPA will undoubtedly open doors to new opportunities and career growth.
PL-500 Certification Benefits
Dynamics Edge's Power Automate certification training (even by itself), as well as obtaining the PL-500 certification offers numerous benefits for both Power Automate RPA Developers and Power Automate Developers in general. As a certified professional, you demonstrate your proficiency in creating, managing, and deploying Power Platform solutions, which validates your skills and expertise in designing and implementing Microsoft Power Platform apps. Our training also gives you direct practice with these concepts, which may validate your skill sets in these areas even if you do not ultimately obtain the Microsoft PL-500 certification, so there may be benefits to you even from just our training alone.
However, being certified in Power Automate may enhance your marketability and employability, making you a more attractive candidate for potential employers. This could lead to opportunities for career advancement and higher salaries, as organizations are more likely to invest in professionals with proven skills and knowledge in their field. So, you may want to consider Dynamics Edge PL-500 Certification training as a way to help you obtain this certification as well, for potential additional benefits you may leverage.
As a certified Power Automate RPA Developer or Power Automate Developer, your enhanced collaboration and communication with clients, partners, and team members can improve project outcomes and overall success. You may be able to customize and optimize Power Platform solutions to meet specific business needs, which can result in increased efficiency and productivity.
In addition, certification can help ensure that your work with the Microsoft Power Platform complies with industry standards and regulations. This not only benefits your organization but also demonstrates your commitment to maintaining the highest level of professionalism and expertise. Dynamics Edge PL-500 training may also provide practical experience that may, in some cases, go beyond that shown by simply passing the certification exam just on self preparation alone (even if you were somehow able to do it), which then may help you demonstrate additional competency, proficiency, and real-world experience with the platform to potential recruiters and employers.
Finally, Dynamics Edge's Power Automate Developer Training, with or without obtaining Power Automate and PL-500 certifications can provide you with a competitive advantage in the rapidly growing and evolving field of business applications. As more organizations adopt Microsoft Power Platform solutions, the demand for skilled professionals is expected to grow. Dynamics Edge's Power Automate training options can position yourself at the forefront of this trend and contribute to the successful implementation and adoption of these powerful tools.
In summary, the benefits of Dynamics Edge Power Platform training extends to both Power Automate RPA Developers and Power Automate Developers, offering career advancement opportunities, increased credibility, and access to exclusive resources. With Dynamics Edge D365ce training, Power Automate training, and more, not only could you validate your skills and expertise within the Microsoft ecosystem, but you can also demonstrate your commitment to ongoing learning and professional development.
Have a Question ?
Fill out this short form, one of our Experts will contact you soon.