Survey Analytics Dynamics 365 Customer Voice for Field Service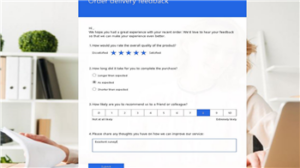 Empower your organization to quickly collect and understand feedback at scale to build better customer experiences. 
Dive into the power of Dynamics 365 Customer Voice! Create surveys with Dynamics 365 Customer Create Voice. Plan, capture, analyze, and act on customer and employee feedback.
Uncover customer sentiment, trends, and the metrics that matter to your organization to ensure complete understanding of your customers.
We can help with feedback management solutions like Dynamics 365 Customer Voice give organizations a comprehensive way to learn from—and deliver on—customer wants and needs.
Making customer experience an organization-wide priority.
Staying agile enough to respond to customer needs quickly.
Responding honestly and authentically.
Meeting customers in the channels they expect.
Designs with branding, branching rules, and other formatting
Dynamics Edge can help you build Dynamics Voice surveys.
Have a Question ?
Fill out this short form, one of our Experts will contact you soon.