Unleashing the power of Microsoft's Power Platform can catapult businesses into a new realm of automation and efficiency. A powerhouse of integrated applications, Power Automate from Power Platform simplifies the creation of automated workflows between applications and services, facilitating the automation of repetitive tasks.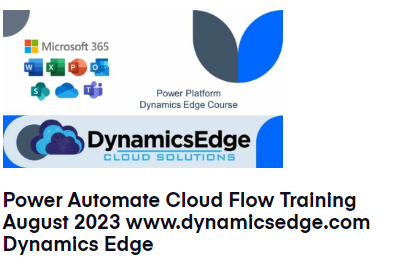 Microsoft Power Automate, a Power Platform solution, offers a robust set of features such as the creation of cloud flows, desktop flows, and business process flows. These features eliminate the need for extensive coding, enabling businesses to develop their own customized applications with ease.
Moreover, Power Automate Government extends these capabilities to government bodies, offering solutions tailored to meet their unique regulatory and compliance needs. Power Automate Government helps create workflows to automate processes across various departments, significantly enhancing efficiency and productivity.
Unleashing the capabilities of Microsoft Power Platform expands the automation and efficiency of a variety of businesses. The Power Platform, comprising Power Automate, Power Apps, and Power BI, forms a cohesive ecosystem, facilitating the development of business solutions without the need for extensive coding. As a low-code platform, it democratizes the process of application development, empowering citizen developers to create solutions in a more agile manner.
The Power Platform Federal Government takes these functionalities a step further, offering customized solutions that align with the stringent regulatory requirements of federal agencies. It is designed to operate within a Government Community Cloud (GCC), providing a secure and compliant environment for the U.S. Federal Government. This ensures that the data generated and managed by these applications adhere to federal security standards.
Expanding the reach further, Power Platform State Government provides state agencies with the tools necessary to digitize and automate their operations. Through the platform, state government entities can create applications tailored to their unique operational needs, enhancing efficiency and reducing resource wastage.
With the flexibility offered by Power Platform, Power Platform Local Government agencies are empowered to develop solutions targeted towards improving local community services. For example, an application could be developed to streamline the management of local parks, facilitating timely maintenance and resource allocation.
In addition, Power Platform Tribal Government provides tribal nations with the capability to digitalize their operations. By utilizing the Power Platform, tribal governments can optimize their resource allocation, improve their service delivery, and foster greater community engagement.
Moving on, Power Automate is a vital component of the Power Platform. Power Automate helps organizations, both commercial and governmental, automate repetitive tasks and streamline business processes. It allows for the creation of automated workflows between different applications and services, thus saving time and enhancing productivity.
The Power Automate Federal Government extends these capabilities to federal agencies. This solution is designed to handle the unique security and compliance requirements of the federal government. Using Power Automate, federal agencies can automate workflows and processes across different departments, enhancing productivity and efficiency.
Likewise, Power Automate State Government provides state agencies with the tools necessary to automate their processes, ensuring that services are delivered effectively and efficiently. State agencies can utilize Power Automate to improve areas such as health services, public safety, and resource management.
Moreover, the Power Automate Local Government services are specifically designed to meet the unique requirements of local government bodies. For example, Power Automate can be utilized to automate the processing of local permits and licenses, improving the efficiency of these services and enhancing the overall experience for local citizens.
Microsoft Power Automate Tribal Government solutions are built to assist tribal governments in automating their unique processes. By automating tasks such as community outreach, resource management, and administrative processes, tribal governments can increase efficiency and provide more effective services to their communities.
Dynamics 365, another integral part of Microsoft's suite, works hand in hand with the Power Platform. Dynamics 365 is an umbrella of CRM and ERP applications targeted towards improving business processes. Its wide range of applications, from Sales and Customer Service to Finance and Operations, integrates seamlessly with Power Automate and Power Apps, amplifying the possibilities of process automation.
To better understand Dynamics 365, it's vital to explore its core competencies and how it can support business operations. Dynamics 365 hosts a diverse suite of applications, and there are certifications like the MB-300 and MB-320 that can enhance one's expertise in these areas.
Let's take the MB-300 certification for instance, which deals with the core finance and operations of Microsoft Dynamics 365. This exam aids in understanding the fundamental aspects of accounting principles, financial operations, customer service, field service, manufacturing, retail, and supply chain management concepts. Candidates who specialize in specific feature sets of Finance and Operations, such as finance, manufacturing, and supply chain management, often pursue this certification.
The MB-320 certification exam, which is set to retire on June 30, 2023, focuses on Microsoft Dynamics 365 Supply Chain Management, Manufacturing. Candidates for this exam are expected to be functional consultants who can translate business requirements into realized business processes and solutions. To successfully navigate this exam, candidates must have a fundamental understanding of manufacturing practices.
Being a Microsoft Certified: Dynamics 365 Supply Chain Management, Manufacturing Functional Consultant Associate enables individuals to play a pivotal role in implementing and configuring applications that meet business requirements. This not only amplifies one's value in the job market but also contributes to optimizing an organization's use of Dynamics 365 Finance and Dynamics 365 Operations.
Dynamics 365 Finance for Government and Dynamics 365 Operations for Government are specialized solutions that cater to government bodies, providing the necessary security measures and compliance capabilities. In addition, Dynamics 365 Supply Chain Management for Government helps these bodies modernize and automate their global financial operations and transform their manufacturing and supply chain operations. All these are backed by Power Platform tools that work seamlessly with Finance and Operations apps, making the Dynamics 365 LifeCycle more effective and efficient.
To ensure optimal utilization of these tools, planning and Implementing an organization in Dynamics 365 Finance and Operations becomes crucial. It involves meticulous Data management where you might need to import or export data by using the data management framework.
LCS stands for Lifecycle Services, a tool for managing the application lifecycle of your Microsoft Dynamics 365 for Finance and Operations, Enterprise edition implementation. It's essential to learn how to Implement Lifecycle Services (LCS) tools.
Testing solutions in Dynamics 365 Finance and Operations apps is a critical process to ensure smooth operations. Tools such as the Business Process Modeler in LCS, Analyzing performance with trace parser, and running Test cases by using Regression Suite Automation Tool (RSAT) and Azure DevOps come into play in this stage.
Becoming a Microsoft Certified: Dynamics 365 Supply Chain Management Microsoft, Manufacturing Functional Consultant Associate or a Microsoft Certified: Dynamics 365 Commerce Functional Consultant Associate can play a critical role in your career progression. These certifications signify your expertise in various aspects of Dynamics 365 Commerce and can boost your standing in the competitive job market.
Dynamics 365, with its plethora of applications and certifications, provides numerous avenues for individuals to enhance their skills, thereby enabling them to contribute effectively to their organizations' success.
Dynamics 365 Government offers a similar suite of applications, but with added security measures and compliance capabilities that cater to government institutions. Both Power Automate Government and Dynamics 365 Government are designed to function in the GCC High environment to ensure maximum security.
When these solutions are paired together, a synergy is formed – Power Platform Dynamics 365. This synergy enables businesses and government institutions alike to not just automate processes but also draw valuable insights from the data generated.
Let's delve deeper into this integrated environment of Power Platform Dynamics 365 Government. With the enhanced security features, Power Automate Government and Dynamics 365 Government can work together to automate complex business processes. For instance, managing and tracking resources in national parks or handling administrative tasks in local government offices can be made more efficient.
With Power Platform Power Automate Government, organizations can create custom connectors that utilize APIs to enable communication between different applications. This way, governments can use Power Automate to pull data from Dynamics 365, process it, and then push it to another application like SharePoint or even a Power BI dashboard, allowing for advanced data analytics.
Moving forward, the Power Automate Cloud Flow is another feature from Power Automate that can be employed by government institutions. A Cloud Flow can be triggered manually, automatically based on an event, or on a schedule, providing great flexibility in automating tasks. For instance, a cloud flow in a federal government department could be set up to monitor email inboxes for certain keywords and alert relevant personnel when such emails come in, thus enhancing national security.
When it comes to Power Automate Cloud Flow Government Security, the cloud flow features in Power Automate are designed with robust security features. For instance, Power Automate Government, which operates in the GCC High environment, complies with a range of regulations such as FedRAMP High, IRS 1075, and DoD IL5, ensuring the security of government data.
The Power Platform Power Automate Cloud Flow Government is more than just an automation tool, it's a secure digital transformation solution for government agencies. For example, a Power Platform Cloud Flow for U.S. Government can be used to automate the process of tracking historic landmarks, enabling swift and efficient updates on their status and any necessary maintenance work.
Looking at the Power Automate FormatDateTime function, this feature allows users to format date and time values in a flow. This can be particularly handy when dealing with data in different formats and can improve the readability and usefulness of reports or insights generated from your automated flows.
Delving into the Power Automate respond to a PowerApp or flow feature, this allows a Power Automate flow to return data to a PowerApps app, enhancing the interaction between the two. For instance, a government department could create a PowerApps app where field agents report the status of local parks. This information could then be processed by a Power Automate flow and returned to the app, offering real-time insights.
The PL-500 certification corresponds to the Microsoft Power Automate RPA Developer Associate certification.
The PL-500 certification essentially underlines the proficiency of an individual in automating repetitive and time-consuming tasks using Microsoft Power Automate. Those who earn this certification work closely with business stakeholders to automate and improve business workflows. They are often responsible for reviewing solution requirements, creating process documentation, and designing, developing, troubleshooting, and evaluating solutions. They are also adept at deploying solutions to production environments and maintaining them post-implementation.
As part of their skill set, these professionals are familiar with JSON, cloud flows and desktop flows. They're skilled at integrating solutions with REST and SOAP services, analyzing data by using Microsoft Excel, VBScript, and Visual Basic for Applications (VBA), HTML, JavaScript, and one or more programming languages. They're also experienced in monitoring and understanding the health of flows and are well-versed with the Microsoft Power Platform suite of tools including process advisor, AI Builder, Power Apps, Dataverse, and Power Virtual Agents.
Individuals seeking the PL-500 certification are typically developers keen on providing automated solutions for their organization. The certification not only validates their technical competence but also demonstrates their understanding of the business landscape and their ability to align technology with business needs. This unique combination makes them invaluable in bridging the gap between technical and non-technical stakeholders, thereby promoting effective communication and fostering a culture of innovation within the organization.
It is noteworthy that the English language version of the PL-500 certification may be up for a revision / updated on June 27, 2023. Therefore, candidates are advised to review  to prepare for these changes, and we advise you to take Dynamics Edge's PL-500 training course. Indeed, the updates to the PL-500 certification exam, or the Microsoft Certified: Power Automate RPA Developer Associate, are reflective of the dynamic nature of technology and the evolution of RPA (Robotic Process Automation) practices in the industry. These updates help ensure that the certification stays relevant and is a true representation of current industry standards and best practices.
As technology evolves, so does the knowledge and skills required to remain competitive in the industry in June 2023, July 2023, August 2023 and beyond. Microsoft's decision to update the PL-500 certification is an affirmation of their commitment to maintain the highest standards in their certifications. By doing so, they ensure that the certified professionals are not just familiar with legacy systems but are also adept with the latest advancements and methodologies in RPA and automation.
This means that individuals who earn the updated PL-500 certification will demonstrate an understanding of the most recent developments in the field. They would have proven their ability to stay abreast with the rapidly changing technology landscape and adapt their skills accordingly. This quality is often highly regarded by employers who value employees capable of navigating through technological changes and applying the most current practices in their roles.
Moreover, the process of preparing for this updated certification allows candidates to deep-dive into the newest features and capabilities of Microsoft Power Automate, thereby enriching their technical toolkit. It ensures they are equipped with the most relevant and sought-after skills in the market, strengthening their professional standing.
The updated PL-500 certification signifies a candidate's dedication to continuous learning. It demonstrates their readiness to evolve with the industry and their commitment to enhancing their expertise. This commitment is not just beneficial for their personal growth but is also a valuable asset for their employers. Thus, it's fair to say that the updates to the PL-500 certification may make it more impactful, enhancing its prestige and the value it offers to both the certified professionals and their organizations.
So, the PL-500 certification, or the Microsoft Certified: Power Automate RPA Developer Associate, is definitely an excellent path for professionals aspiring to leverage the power of automation in their careers. By augmenting the Microsoft Power Platform and Dynamics 365 suite, it enhances one's skills and broadens career opportunities in today's digital age.
In essence, Microsoft's Power Platform, Dynamics 365, and the associated certifications like PL-500 offer a comprehensive suite of tools and knowledge for both businesses and government institutions. These tools not only drive automation but also ensure secure data handling, vital for government bodies. Hence, equipping oneself with these skills and knowledge will indeed boost one's career, opening doors to numerous opportunities.
Have a Question ?
Fill out this short form, one of our Experts will contact you soon.