Are you ready to transform your business solutions and break through the barriers of automation, data visualization, and app creation?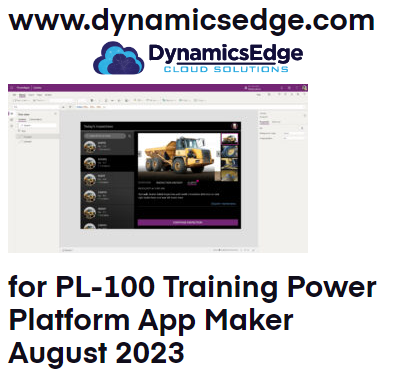 Imagine leveraging the Power Platform to map problems, analyze data, and create intelligent workflows tailored to your needs. Dynamics Edge PL-100 Power Platform training is your guide to becoming more proficient in Power Apps, Power Automate and more to become an App Maker. PL-100 training with Dynamics Edge can also be your pathway to help you become a Microsoft Certified: Power Platform App Maker Associate. Now, let's embark on this engaging journey together!
What is Power Platform?
Power Platform is a suite of tools offered by Microsoft to create business solutions, automate workflows, analyze data, and more. It's a comprehensive platform that unifies various components, including Power Apps, Power BI, Power Automate, and Power Virtual Agents, providing an all-in-one solution for modern businesses. Whether you're building an app, analyzing data, or designing complex business processes, Power Platform offers the building blocks to achieve your goals.
What is PL-100, and How Can It Help?
PL-100, also known as the Microsoft Power Platform App Maker exam, is a certification exam that tests your ability to design, build, and deploy Power Platform solutions. It covers a wide range of topics, from understanding data models to creating and configuring table views. The exam is instrumental in helping individuals become proficient in Power Platform, ensuring they have the required knowledge to apply the tools effectively.
Certification and Updates
The certification obtained by passing the PL-100 exam is the Microsoft Certified: Power Platform App Maker Associate. This prestigious title validates one's expertise in using Power Platform to solve real-world business problems.
The PL-100 certification exam was last updated on March 15, 2023, reflecting the ever-changing technological landscape. Notable changes were made in areas such as managing Power Platform components during development, creating model-driven apps, configuring Microsoft Dataverse, and more, keeping the exam in line with current industry demands.
Solutions, Gaps, and Requirements
In Power Platform, a solution is a package that contains components like apps, flows, and tables, allowing you to extend Power Platform's capabilities. Identifying gaps and requirements involves understanding the problem domain, mapping it to the Power Platform, and then determining the tables, apps, and automation needed to create a functional solution. PL-100 equips you with the skills to analyze these aspects, helping you create effective solutions tailored to your business needs.
Understanding Data Models
A data model is a conceptual structure that defines how data is organized, stored, and accessed. It's the foundation of any solution, and determining the required tables for a data model is essential in building robust and scalable solutions. PL-100 can help you with these concepts, guiding you through creating tables, columns, relationships, and more, ensuring a comprehensive understanding of data modeling within Power Platform.
Model-Driven Apps, Site Maps, and Table Views
Model-driven apps are applications built on the unified framework of Dataverse, enabling you to create apps that are responsive and adaptive to various devices. PL-100 can be your guide for the process of creating a model-driven app, designing a site map, and configuring table forms and views, equipping you with the hands-on skills needed to develop functional applications.
Business Process Flows and Business Rules
Business Process Flows (BPF) are guided workflows that define a set of stages and steps necessary to complete a business process. Business rules, on the other hand, are a way to implement logic and validations without coding. PL-100 helps you identify stages in a BPF, know how to create and use a BPF, and utilize business rules to streamline your business operations.
Dataverse and Dataverse for Teams
Dataverse is a scalable data platform that allows you to create, secure, and manage data within Power Platform. It's where all the data for your apps is stored, allowing seamless integration across the platform. Dataverse for Teams is a simplified version specifically designed for collaboration within Microsoft Teams. The differences between these two are so important, and knowing them can enable you to create the proper apps for your scenario.
Power Apps Canvas App and Power Automate
With Power Apps, you can build custom apps tailored to your business needs. PL-100 helps you learn how to import pre-built components, create canvas apps, connect to data sources, filter data, embed apps into Teams, and more.
Power Automate is a tool for creating automated workflows, and PL-100 covers its use for escalation, approval, and execution processes, notification of issue status changes, and design of data columns to support automation.
Power BI, Power Virtual Agents, and Beyond
Power BI is a business analytics tool that connects to Dataverse, allowing you to refine data models, create visualizations, and embed reports in Teams. Power Virtual Agents enables the creation and publishing of chatbots within Teams. PL-100 helps enhance your understanding of these tools, guiding you through the entire process from creation to utilization.
Power Apps Platform Training PL-100
The path to mastering Power Platform is filled with excitement, challenges, and endless opportunities. The PL-100 exam is more than just a test for earning a Microsoft certification; it's a comprehensive guide that empowers you to harness the full potential of Power Platform, from data modeling to automation, from visualization to intelligent chatbots.
By enrolling in Dynamics Edge PL-100 Power Platform App Makers Training, you're not just learning a set of tools; you're embracing a mindset, a way of thinking that transcends traditional barriers, enabling you to innovate, transform, and lead. The future is bright, and it's time to take control. Are you ready?
Have a Question ?
Fill out this short form, one of our Experts will contact you soon.