Get This Course
$

1,895.00
December 18 - 19
9:00 AM – 4:00 PM CST
Scroll to view additional course dates
Reserve Your Seat
Virtual instructor Led Training
Complete Hands-on Labs
Softcopy of Courseware
Learning Labs
Virtual instructor Led Training
Complete Hands-on Labs
Softcopy of Courseware
Learning Labs
You can use your Purchase Card and checkout
The GSA Contract Number: 47QTCA20D000D
Call 800-453-5961 for details
Customize your class
Delivery Onsite or Online for your organization
Choice of Dates when and where you want
Guidance in choosing and customizing your class
Question About this Course?
Dataverse for Teams Training Power Apps Virtual Agents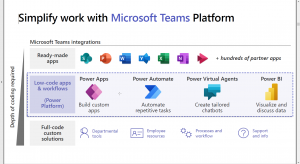 Course Review
You will learn:
Create a relational database (Dataverse for Teams) to store your data in Teams
Create apps in Teams with Power Apps
Use Power Automate in Teams
 Build your own Power Virtual Agent chatbot in Teams
 Connect your Dataverse tables to Power BI to build and share reports
 Use and configure sample apps available in Teams
Collaborate and engage with solutions built by others
Is this the right Dataverse for Teams Course for you?
Beginners, with no prior experience of app building or working with Power Platform
Some familiarity with Microsoft Teams is assumed
Course Outline -Dataverse for Teams
Module 1: Power Apps for Teams
Power Apps for Teams: You will build an app for Microsoft Teams that allows employees to request equipment for their home-office set up. Power Apps is a low-code/no-code tool used to build your own custom business applications using drag and drop functionality.
Lab: Power Apps for Teams
Module 2: Power Automate for Teams
Power Automate app for Microsoft Teams, to automate approvals and notifications. Power Automate enables users to make their workday easier by automating routine tasks and processes, with trigger and action style flows.
Lab: Power Automate for Teams
Module 3: Power Virtual Agents for Teams
Power Virtual Agents app to Microsoft Teams, and creating a chatbot for the employees of to gett information about frequently asked questions for home office setup
Use the bot to request home office assets. The chatbot will be able to submit an asset request on behalf of the user, and you will see the request in the same Dataverse for Teams table.
Lab: Power Virtual Agents for Teams
Module 04: Power BI for Teams
Connect Power BI to to your Microsoft Dataverse tables, to build a report about the home office set up request
Build Power BI dashboards to get insights from your data by building interactive reports and dashboards
Lab: Power BI for Teams
Module 05: Sample Apps
Issue Reporting sample app
Apps in the Teams Store
Lab: Dataverse for Teams Sample apps
Module 06: Collaboration Game
Work with the tools you have built in the previous labs come together as a complete solution in Microsoft Teams
Lab: Collaboration exercise
Question About this Course?