Under the blistering pace of digital transformation, Microsoft's Power Platform emerges as a blazing comet of innovation, powering organizations across the globe with its suite of business applications. Like a maestro conducting a symphony, it harmonizes disparate data sources, giving life to a rich array of business intelligence, application development, and automation capabilities. It breaks the iron chains of traditional coding, democratizing app development and data analytics with its low-code and no-code capabilities.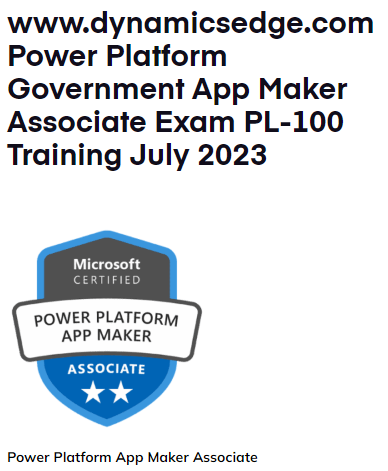 Microsoft's Power Platform is an integrated application platform comprising four main components – Power BI, Power Apps, Power Automate, and Power Virtual Agents. Power BI is the maestro's baton that conducts the data symphony, bringing together information from various sources and transforming it into actionable insights via rich visualizations. Power Apps, consisting of Canvas Apps and Model-Driven Apps, empower you to craft custom applications addressing specific business needs. Power Automate streamlines repetitive tasks with its advanced automation capabilities, and Power Virtual Agents opens up the world of AI-enhanced customer service with chatbots.
When it comes to the public sector, the Power Platform metamorphoses into a powerhouse of civic innovation. Government organizations can use the Power Platform to enhance productivity, reduce costs, and streamline operations, all while adhering to stringent compliance standards. Power Platform in Government offers capabilities specifically designed for the public sector's unique requirements, from managing citizen data to streamlining bureaucratic processes.
Let's delve deeper into the constituents of Power Platform. Power BI in Government transforms siloed public sector data into meaningful insights, guiding policy-making and resource allocation. Power Apps Canvas App in Government simplifies app development for public sector needs, offering a user-friendly, drag-and-drop interface to build apps with responsive layouts. The Model-Driven App, on the other hand, focuses on complex scenarios with data-driven, dynamically changing business processes.
When it comes to government, Power BI plays a crucial role in transforming siloed public sector data into meaningful insights. Public sector organizations, from local councils to federal agencies, generate and collect vast quantities of data. However, without the right tools, this data can remain isolated in separate systems, leading to inefficiencies and missed opportunities. Power BI bridges these gaps, integrating data from multiple sources, and providing powerful data analytics and visualization capabilities.
Imagine a health department trying to manage and mitigate a public health crisis, such as a pandemic. Power BI can draw together data from hospitals, pharmacies, and other healthcare providers to visualize the spread of the pandemic, guiding the allocation of resources and informing public health strategies. Or consider a city planning department deciding where to invest in new infrastructure. Power BI can analyze demographic data, traffic patterns, and economic indicators to identify the areas of greatest need.
Power Apps Canvas App simplifies app development for these public sector needs. Traditional software development requires significant resources and technical expertise, but Canvas App offers a more user-friendly alternative. Its drag-and-drop interface allows government officials, even those without coding skills, to create custom applications that meet their specific needs.
For instance, a local council might use Canvas App to create a mobile application where citizens can report issues like potholes or graffiti. This streamlines the process for both citizens and council workers, leading to quicker resolution of problems and improved public satisfaction. Another example might be a federal agency creating an app for internal use that enables staff to track project progress, assign tasks, and share documents, thereby improving workflow and collaboration.
Power Apps also comes with Power Apps Component Framework (PCF), a developer toolkit for creating reusable components that can be used across multiple apps. PCF can enhance the functionality of Canvas Apps and Model-Driven Apps, although it's worth noting that understanding of PCF is not specifically tested in the PL-100 exam.
Model-Driven Apps in Power Apps serve the needs of complex, data-intensive scenarios commonly found in U.S. Government. They utilize metadata from Dataverse to automatically generate app layouts, making it faster and easier to create apps that handle complex, dynamic business processes.
Take, for example, the process of managing a government grant program. This involves numerous steps, from application to award to evaluation, and it requires tracking a large amount of data. A Model-Driven App could streamline this process, providing a single, integrated platform for managing the entire grant lifecycle. Similarly, an immigration department could use a Model-Driven App to manage visa applications, tracking each application's progress, automatically flagging any issues, and ensuring timely processing.
In the government sector, the ability to build custom applications, optimize workflows, and drive business value through data is critical. With Power Platform's tools, government entities are able to revolutionize their operations and better serve their constituents.
A Power Platform App Maker is a craftsman of digital solutions. They use the Power Platform to harness these tools, creating apps and analytics that respond directly to government needs. From initial problem identification to the deployment of the final solution, these App Makers play a pivotal role in digitizing and optimizing public sector operations.
A Power Platform App Maker is a craftsman of digital solutions. They use the Power Platform to build custom applications, optimize workflows, and drive business value through data. From problem identification to the final solution deployment, App Makers operate across the entire application lifecycle.
As a Power Platform App Maker Associate, one steps into a more advanced role. They delve deeper into the platform, creating complex business solutions, managing permissions, implementing business logic, and configuring components for optimum performance. Their knowledge often extends beyond the Power Platform, covering related technologies like Dataverse and Azure.
Taking the PL-100: Microsoft Power Platform App Maker certification exam can significantly boost a Power Platform App Maker Associate's career prospects. It validates their proficiency in building solutions on the Power Platform, enhancing their credentials and improving their marketability. Furthermore, studying for the PL-100 also enhances their understanding of the platform, making them more efficient in their everyday work.
In the public sector, a Power Platform App Maker Government Associate plays a vital role. They leverage the Power Platform to streamline government operations and improve public services. While their responsibilities echo those in the commercial sector, the whole picture changes. They operate within tighter regulatory constraints and address more complex, large-scale challenges inherent to public administration.
The PL-100 exam maps well to what a Power Platform App Maker does daily. However, additional knowledge beneficial to an App Maker might not be covered in the exam. For instance, in Power BI, understanding advanced data modeling concepts and working with real-time data can provide a significant career boost. In Power Apps, experience with integrating with other Microsoft products, such as SharePoint or Teams, can prove extremely useful. Another valuable skill might be mastering Power Automate's integration with AI Builder for enhanced automation capabilities.
In U.S. government, understanding the unique security, compliance, and transparency requirements of public sector data handling can be immensely beneficial for a Power Platform App Maker. Although the PL-100 exam provides a solid foundation, acquiring a deeper understanding of these elements could dramatically enhance a Power Platform professional's efficiency in a government role.
Have a Question ?
Fill out this short form, one of our Experts will contact you soon.