Microsoft Power Platform Fundamentals, also known as PL-900, is a strategic starting point for anyone keen on exploring the potential of the Power Platform. The PL-900 course provides a foundational understanding of the key capabilities and business value associated with the platform. It offers you a bird's-eye view of how Power Platform technologies fit together and how they can help organizations become more efficient and data-driven.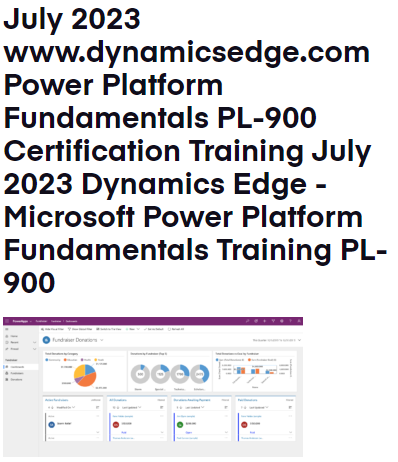 For users of Power BI, the PL-900 is especially valuable. Power BI is a business analytics tool that turns data into interactive visualizations. For those working with Power BI, understanding the PL-900 basics will help you harness data more effectively and create insightful reports that drive strategic decisions.
The realm of Power BI is a dynamic landscape where data takes on a new dimension of relevance, and here, the PL-900 proves its worth. Power BI, a part of the Power Platform, brings raw data to life by turning it into interactive visualizations. Its intuitive interface allows users to craft detailed, appealing dashboards and reports, offering a narrative that drives decision-making in the business context. Understanding the PL-900 basics is like gaining a key to unlock the full potential of Power BI.
Through PL-900, you delve into the primary features of Power BI, discovering how data sources can be imported, transformed, and visualized effectively. The course equips you with knowledge of creating dashboards and reports, as well as sharing and publishing them across your organization. For instance, consider a retail company trying to understand customer purchasing patterns. By using Power BI, data from multiple sources can be integrated to create a comprehensive customer profile, aiding in the development of targeted marketing strategies.
Furthermore, PL-900 provides insight into Power BI's interactive capabilities, guiding users on how to create and customize visualizations that respond to user interactions. This could enhance your presentations by allowing stakeholders to navigate through data points and draw their own insights. Additionally, the course introduces you to the Power BI service, Power BI Mobile, and Power BI embedded, enabling a thorough comprehension of the Power BI ecosystem.
Imagine you're a project manager looking to monitor the progress of various projects. Power BI allows you to create a real-time dashboard that amalgamates data from diverse sources like Excel, SharePoint, and Azure DevOps. Having the knowledge from PL-900, you can construct a powerful visual tool that provides a comprehensive view of the project status, resources, and timelines. Consequently, the PL-900 not only assists in navigating the intricate corridors of Power BI but also ensures you make the most out of your data.
Similarly, Power Automate, another component of the Power Platform, is designed to automate repetitive tasks. The PL-900 course aids in understanding the true potential of Power Automate, allowing you to maximize efficiency by automating mundane tasks.
Venturing into the realm of Power Automate, the relevance of PL-900 continues to echo. Power Automate, another integral component of the Power Platform, is designed to help you automate repetitive tasks, freeing up time for more strategic endeavors. By learning the fundamentals through the PL-900, you're equipped to maximize the efficiency of your processes by replacing manual, time-consuming tasks with automated workflows.
The PL-900 course demystifies the components of Power Automate, such as flows, connectors, and triggers. It helps you understand how to create automated workflows between your favorite apps and services to synchronize files, get notifications, collect data, and more. Imagine you're an HR manager tasked with onboarding new employees. Power Automate can help automate many aspects of this process, such as sending welcome emails, setting up necessary credentials, and scheduling orientation meetings. Having PL-900 knowledge, you can create a streamlined and efficient onboarding process.
Moreover, the PL-900 certification familiarizes you with different types of flows—automated, button, scheduled, and approval—and their applications. This empowers you to pick the right type of flow for your specific automation needs. For example, an automated flow could be set up to track social media mentions of your company and alert you, helping manage your brand's online presence more effectively.
The course also sheds light on Power Automate's integration with other Power Platform components and how this synergy can be utilized to create end-to-end business solutions. For instance, a company could integrate Power Automate with Power Apps to create an app that automates expense approvals, thus saving time and reducing errors. Thus, the PL-900 certification proves crucial in helping individuals and organizations tap into the power of automation with Power Automate.
In the realm of career advancement, the Power Platform Fundamentals certification can prove to be a game-changer. With organizations recognizing the value of data and digitization, skills in Power Platform are becoming increasingly sought after. Achieving the PL-900 certification showcases your knowledge of the platform and its potential benefits, making you a strong candidate for roles in data analysis, app development, and process automation.
In today's data-driven world, the Power Platform Fundamentals certification, or PL-900, carries significant weight. It's a globally recognized certification that can serve as a turning point in your professional journey, establishing your expertise in a highly competitive field. With organizations across various industries recognizing the value of data and digitization, skills in the Power Platform are becoming increasingly sought after.
As data becomes the lifeblood of decision-making, the ability to leverage Power BI, Power Apps, Power Automate, and Power Virtual Agents is becoming a key differentiator in the job market. The PL-900 certification validates your ability to use these tools effectively. It proves that you can harness data, create powerful visualizations, develop intuitive applications, automate workflows, and build intelligent chatbots.
Imagine you're a business analyst in a large corporation, and your role involves data management and reporting. Having the PL-900 certification to your credit means you can showcase your competency in data manipulation, giving you an edge in your job and potentially positioning you for promotions and advancement opportunities.
It's also worth noting that the PL-900 certification doesn't just enhance your resume; it enriches your understanding of data and its potential. It provides you with the theoretical knowledge and practical skills needed to transform raw data into actionable insights. You learn how to view data not just as numbers, but as a strategic asset that can drive organizational growth and success.
For instance, a product manager could use the knowledge gained from the PL-900 certification to use Power BI for tracking product performance, Power Apps for building a tool to gather customer feedback, and Power Automate for sending product updates to the team. This showcases how the practical application of Power Platform can directly impact daily work.
The power of PL-900 extends beyond understanding Power Platform fundamentals. It is the first step towards becoming proficient in Power Platform technologies. The PL-900 certification not only demonstrates a foundational understanding of the platform, but it also sets a strong base for more advanced certifications. In fact, for anyone aiming to build a career in the Power Platform, obtaining the PL-900 certification could be an important stepping stone.
Exploring the government sector, there's a distinct version of Power Platform called Power Platform Government. This offering is designed with specific features to comply with regulatory standards of government entities. It helps public sector institutions leverage the power of data while maintaining stringent security protocols.
Power Apps Government, a part of the government offering, also has unique features that cater to the needs of the public sector. With capabilities to create both Canvas and Model-Driven apps, users can design applications that are tailored to their needs. For instance, a local government agency might use Power Apps to create a Canvas App for reporting potholes, while a state health department might develop a Model-Driven App to manage vaccination data.
GCC, or Government Community Cloud, plays an important role in Power Platform Government. It ensures that all data and services comply with governmental requirements, such as the Federal Risk and Authorization Management Program (FedRAMP), amongst others. These features provide an extra layer of confidence for government institutions, ensuring their data and applications are handled securely and responsibly.
An organization might use Power Automate to streamline their approval processes, minimizing delays and increasing efficiency. Power BI could be used to analyze sales data and identify patterns, thus informing the development of marketing strategies. A local government body might utilize Power Apps to create an application that allows citizens to report issues directly, improving community engagement.
In essence, the Power Platform, with its fundamentals encapsulated in the PL-900 certification, empowers individuals and organizations to harness data more effectively, potentially unlocking new avenues of innovation, efficiency, and value creation. Regardless of the sector or scale, this platform offers opportunities to transform operations and make data-driven decisions, making it a vital tool in today's digital era.
Have a Question ?
Fill out this short form, one of our Experts will contact you soon.