Unlock a treasure trove of opportunities in the tech industry by becoming a Microsoft Certified: Power Platform Developer Associate. Whether you're an aspiring developer or an experienced coder, this certification sets you on a rewarding career trajectory, enabling you to thrive in an ever-changing technological landscape. Dynamics Edge offers October 2023 PL-400 Training in Power Platform for Developers so you can get an edge and win the future.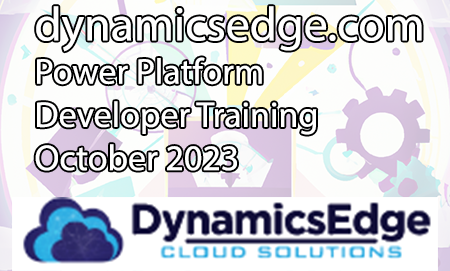 Exam PL-400, or the Microsoft Power Platform Developer, is the gateway to the much-coveted Microsoft Certified: Power Platform Developer Associate certification. It's September 2023 as of this writing, so keep an eye on the calendar; the English version of the exam is going to be updated very soon if it hasn't been already – on September 19, 2023. To help you prepare adequately, you would be wise to take Dynamics Edge's PL-400 training course to help you on your way to preparing for this exam.
Why opt for this certification? Well, Power Platform is a force to be reckoned with. It provides a comprehensive environment to design, develop, test, secure, and troubleshoot business solutions, making it indispensable in today's digital economy. And it's not just about Power Platform; this certification validates your ability to integrate it with other services like Microsoft Azure, RESTful Web APIs, and more.
Power Platform is Microsoft's low-code development environment, which means you don't need to be an expert coder to start building apps. It boasts a suite of services like Power Apps, Dataverse, and Power BI that allow rapid application development, data manipulation, and analytics. This is in contrast to traditional programming languages where more in-depth, line-by-line coding is required. However, don't let the term 'low-code' mislead you; the platform does offer opportunities for more code-intensive tasks involving JavaScript, JSON, TypeScript, and C#, among others.
How does the exam validate your expertise? It covers a broad range of topics from creating technical designs, configuring Dataverse and Power Apps, to extending user experiences and developing integrations. You're expected to have a strong grasp of Power Platform's capabilities, constraints, and authentication and security measures, as well as Application Lifecycle Management (ALM), which deals with the process of managing an application's life from conception to its termination.
Let's zoom out and consider the larger picture. While the title 'Developer' may imply coding, in the Power Platform ecosystem it often involves a blend of coding and low-code skills. The role is multifaceted; outside the Microsoft universe, it may encompass responsibilities like setting up databases, crafting user interfaces, implementing APIs, and creating custom experiences.
You might wonder how Power Platform stacks up against similar platforms like Salesforce and Appian. While each has its strengths, Power Platform excels in seamless integration with Microsoft's ecosystem, making it a natural choice for businesses already using Microsoft products.
When considering cost, Power Platform often comes across as a more budget-friendly option, providing high value for its functionalities. But cost shouldn't be the sole determining factor when evaluating platforms for long-term strategic growth, particularly in a rapidly evolving landscape shaped by advances in AI and machine learning.
While Amazon may be considered by some as the one that has long held the dominant position in cloud computing with AWS, Microsoft and Google have been making significant strides in the field of advanced AI. Microsoft, in particular, has been doubling down on its AI efforts, partly evidenced by its partnership with OpenAI. With models like ChatGPT and DALL-E, Microsoft is carving out a niche for itself that goes beyond cost-effectiveness and dives deep into value creation through innovation. This is a sign that the company isn't merely competing on cost but is striving for leadership in next-generation technologies. Thus, aligning with Microsoft's ecosystem today might place your business on the cutting edge of future technologies.
When we think of AI, the benefits often materialize in ways that go beyond initial cost savings. For example, the integration of advanced AI into Microsoft products could revolutionize how Power Platform functions. Imagine automating not just simple tasks, but also complex decision-making processes, or obtaining real-time analytics that are far more predictive and insightful than what we're used to. Advanced AI could make Power Platform more than just a tool—it could make it an indispensable part of your business strategy.
The ripple effects of this technological leap extend to professionals as well. Acquiring a certification like Microsoft Certified: Power Platform Developer Associate (Exam PL-400) would mean you're not just mastering the current features of Power Platform. You're essentially preparing for what Power Platform could become in an AI-driven future. Your skill set would be in high demand, as businesses will need professionals who can navigate both current functionalities and future capabilities of the platform. This would be crucial for roles that involve designing, developing, testing, securing, and troubleshooting Power Platform solutions.
As of now, the AI capabilities are still an emerging aspect of Power Platform, but with Microsoft's track record and dedication to advancing in AI, it's not far-fetched to expect significant AI-driven enhancements to the platform. Microsoft's strategy could turn Power Platform into something much greater than a budget-friendly alternative; it could make it the go-to platform for businesses that are keen on staying ahead of the curve. This investment in advanced AI technology is likely to trickle down to Power Platform, thereby increasing its value manifold.
If you're someone keen on diving into the design, development, testing, securing, and troubleshooting of Power Platform solutions, this certification is a key milestone. Experience in JavaScript, JSON, TypeScript, C#, HTML, RESTful Web APIs, and Microsoft Azure can certainly give you a head start, although it's not strictly mandatory. Alternative reasoning skills or experience with similar platforms may also prove beneficial.
Undoubtedly, achieving this certification is an essential step for anyone eyeing a developer role in the Power Platform sphere. It not only builds your credentials but also equips you with the knowledge and skills to contribute effectively in a work environment, potentially acting as a catalyst to jumpstart or elevate your career.
So consider the Microsoft Certified: Power Platform Developer Associate certification not just as another line on your resume, but as a dynamic toolkit enabling you to navigate the complexities of modern business solutions. With its balanced emphasis on both code-intensive and low-code aspects, it's a certification that resonates with the multi-faceted nature of today's tech roles.
Have a Question ?
Fill out this short form, one of our Experts will contact you soon.