Get the edge and secrets to more productivity and greater success with Dynamics Edge's Microsoft PL-100 Training to transform your organization's productivity in a fantastic way now!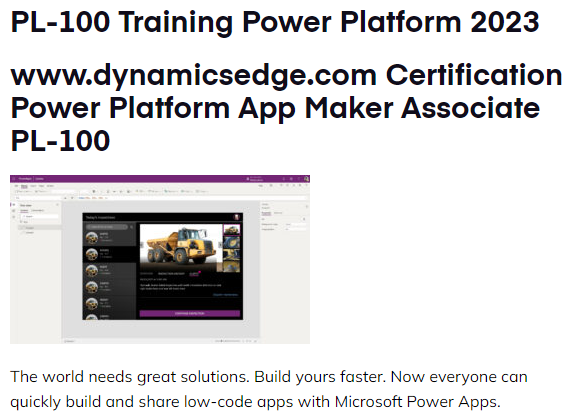 Adopting Power Platform and nurturing your skill sets further can really help you solve various important technological challenges within your organization. Microsoft Power Platform is a comprehensive low-code platform that enables rapid development of apps, automations, and data visualizations, enhancing productivity and collaboration across your organization.
For instance, Power Apps allows you to create custom Canvas Apps and Model Driven Apps to address specific business needs, reducing development time and costs. It easily integrates with existing data and systems, such as SharePoint as a data source, to streamline your processes.
Power Automate, with its Cloud Flows, Desktop Flows, and RPA (Robotic Process Automation) capabilities, can help automate repetitive tasks, freeing up time for your employees to focus on more strategic initiatives. For example, a Cloud Flow can be used to streamline approval processes and save time in your project management efforts.
Power BI, a powerful data visualization and business intelligence tool, can provide insights to inform decision-making. By integrating data from Dynamics 365 Finance and Operations, you can analyze financial performance and identify opportunities for improvement.
The Dynamics 365 suite, including Customer Engagement, Sales, Customer Service, and Field Service, helps you streamline customer relationship management (CRM) and enhance the overall customer experience. Leveraging AI features in Dynamics 365, you can create personalized customer experiences and targeted marketing campaigns.
Dynamics 365 ERP products, such as Business Central, Supply Chain, and Retail, can optimize your organization's operations, from managing financials and supply chains to supporting POS systems in a retail environment.
Dynamics 365 Retail and Dynamics 365 Commerce are essential Microsoft solutions that help organizations optimize their retail operations, provide seamless customer experiences, and manage omnichannel commerce effectively. These solutions offer a multitude of benefits, including POS system support, inventory management, customer insights, and more.
Dynamics 365 Retail is designed to manage end-to-end retail operations, from back-office functions to the customer-facing point of sale (POS). This solution integrates with other Dynamics 365 products, streamlining the flow of information and improving overall operational efficiency.
Dynamics 365 Commerce is an evolution of Dynamics 365 Retail, providing a unified commerce solution that enables organizations to deliver personalized customer experiences across all channels. It offers advanced features, such as AI-driven recommendations, inventory management, and order fulfillment, to help businesses stay competitive in the ever-changing retail landscape.
One of the critical advantages of both Dynamics 365 Retail and Commerce is their ability to support POS systems, which are essential for managing transactions, processing payments, and tracking customer data. This functionality ensures that retailers can offer fast, secure, and reliable checkout experiences to their customers.
Dynamics 365 Retail and Commerce offer robust inventory management capabilities, allowing organizations to monitor stock levels, track product movement, and optimize replenishment processes. This helps businesses maintain optimal inventory levels and avoid issues like stockouts or overstocking.
The integration of AI capabilities in Dynamics 365 Commerce enables businesses to provide personalized shopping experiences for their customers. Features like product recommendations, intelligent search, and personalized promotions help retailers engage with customers more effectively and drive sales.
Both Dynamics 365 Retail and Commerce offer powerful reporting and analytics tools, allowing organizations to gain valuable insights into customer behavior, sales performance, and overall business trends. This data-driven approach helps retailers make informed decisions and optimize their operations.
Dynamics 365 Retail and Commerce provide seamless integration with other Microsoft products and services, such as Power BI, Power Apps, and Power Automate. This connectivity allows organizations to extend and customize their retail solutions, automating processes, and improving efficiency.
Dynamics 365 Commerce supports global expansion efforts by providing multi-language, multi-currency, and multi-tax capabilities. This allows businesses to adapt to local markets quickly and efficiently while maintaining a centralized view of their operations.
These solutions offer robust security and compliance features, ensuring that organizations can protect sensitive customer and business data while adhering to industry regulations and standards.
Dynamics 365 Retail and Commerce enable organizations to adopt a mobile-first approach, providing support for mobile POS, inventory management, and sales operations. This allows businesses to empower their employees with the tools they need to perform their tasks efficiently, wherever they are.
Dynamics 365 Retail and Commerce are vital solutions for organizations looking to optimize their retail operations, provide exceptional customer experiences, and effectively manage omnichannel commerce. By leveraging these solutions, you can streamline your processes, gain valuable insights, and remain competitive in the dynamic retail landscape.
Power Virtual Agents can be used to create intelligent chatbots for customer engagement, improving customer support and reducing response times. With AI Builder, you can further enhance the Power Platform's capabilities by adding AI-driven features to your apps and processes.
Power Pages, formerly Power Apps Portals, enables you to create web portals for external users, extending your organization's reach and providing a unified platform for customer interactions.
By pursuing Power Platform certifications, such as the PL-100, your team can validate their expertise in building and deploying custom business applications, increasing their credibility and marketability.
To manage all these solutions, Power Platform Admin Essentials ensures effective administration and governance of the platform, enabling security, compliance, and scalability while simplifying the management of apps, flows, and resources.
Adopting the Power Platform can help you address various challenges within your organization, streamlining processes, improving data-driven decision-making, and enhancing customer experiences. With its suite of tools and integration capabilities, it offers a versatile solution for you to drive organizational success.
PL-100 Training
The PL-100 is the Microsoft Power Platform App Maker certification that demonstrates an individual's expertise in building custom applications using Power Apps, Power Automate, and Dataverse. It is crucial for showcasing an individual's ability to design, develop, and deploy custom applications, validating their skills and marketability in the industry. Pursuing the PL-100 certification can increase your team's credibility within your organization and enhance their career opportunities.
PL-100 Microsoft Power Platform Apps Maker Training
The Microsoft Certified: Power Platform App Maker Associate certification is designed for business professionals who possess deep expertise in their solution domain and are passionate about using Microsoft Power Platform to build solutions that simplify, automate, and transform tasks and processes for their team. This certification is crucial for individuals seeking to validate their skills in using the maker tools of Microsoft Power Platform to solve real-world business problems.
Achieving this certification demonstrates that an individual is well-versed in key technical business analyst tasks, such as data modeling, basic UX design, requirements analysis, and process analysis. This certification is particularly valuable for those who are self-directed and solution-focused, working closely with IT administrators and Microsoft Power Platform developers to leverage technology in addressing business challenges.
A Microsoft Certified: Power Platform App Maker Associate is responsible for designing and creating apps, automating workflows, analyzing and visualizing data in context of an app or automated workflow, and implementing and managing apps and automated workflows. This certification helps individuals stand out in the job market, highlighting their expertise in using tools like Visual Basic for Applications, Excel PivotTables, Teams, and other relevant technologies.
The importance of this certification lies in its ability to showcase an individual's proficiency in using the Microsoft Power Platform to drive digital transformation within an organization. It highlights their ability to create custom applications that address specific business needs, reduce development time, lower costs, and quickly adapt to ever-changing business requirements. This not only benefits the certified individual in their professional growth but also contributes significantly to the organization's overall efficiency and competitiveness.
Furthermore, obtaining the Microsoft Certified: Power Platform App Maker Associate certification allows professionals to gain valuable knowledge and stay up-to-date with the latest advancements in the Power Platform ecosystem. As a result, they can effectively contribute to the digital transformation of their organization by leveraging the latest tools and techniques.
In conclusion, the Microsoft Certified: Power Platform App Maker Associate certification is essential for business professionals who aim to demonstrate their skills in creating efficient, tailor-made solutions using the Power Platform. By achieving this certification, individuals showcase their commitment to staying current with technological advancements and their dedication to enhancing their organization's productivity and competitiveness.
Power Platform Admin Essentials Training
Power Platform Admin Essentials are a set of guidelines and best practices for effective administration, governance, and security within the Power Platform ecosystem. It is essential for ensuring scalability, compliance, and proper management of apps, flows, and resources. Focusing on Power Platform Admin Essentials helps streamline environment and user management while maintaining a secure and well-governed platform.
Establishing clear roles and responsibilities: Define and assign roles such as environment admins, makers, and users to maintain a well-structured and secure Power Platform environment. This helps ensure that the right people have access to the appropriate resources and minimizes the risk of unauthorized access or accidental changes.
Implementing Data Loss Prevention (DLP) policies: DLP stands for Data Loss Prevention, which helps protect sensitive information by restricting the sharing of data between apps and services. Setting up and enforcing DLP policies is crucial for maintaining data security and regulatory compliance within your organization.
Understanding and leveraging cloud options: The Power Platform offers different cloud options, including the public cloud, GCC (Government Community Cloud), GCC High, DOD (Department of Defense), and Azure GCC. Each option provides different levels of compliance, security, and data protection. Understanding when to use a specific cloud, such as GCC High for organizations with stringent compliance requirements, is essential for maintaining a secure and compliant Power Platform ecosystem.
Utilizing Power Platform Admin Center (admin.powerplatform.com): This administrative platform allows users to manage Power Platform environments, enabling settings such as the PCF (Power Apps Component Framework) component, which allows for the creation of custom components in Power Apps Canvas Apps. By effectively using the Admin Center, organizations can efficiently manage environments, monitor usage, and maintain a well-governed platform.
Monitoring and auditing: Regularly monitoring and auditing Power Platform environments helps identify potential issues, security risks, and usage trends. This proactive approach ensures that your organization stays ahead of potential problems and maintains a secure, compliant, and efficient Power Platform ecosystem.
Capacity planning and resource management: Effectively managing resources and capacity planning ensures that your Power Platform environment remains scalable and performs optimally. By monitoring and allocating resources appropriately, organizations can prevent bottlenecks and maintain a highly available and responsive platform.
Encouraging a Center of Excellence (CoE): Establishing a CoE within your organization can foster best practices, improve collaboration, and drive innovation across the Power Platform. A CoE acts as a hub for sharing knowledge, promoting standardization, and supporting the ongoing growth and success of your Power Platform initiatives.
Power Platform Fundamentals Training
Power Platform Fundamentals provides the foundational knowledge required to understand and utilize the various components of the Power Platform, including Power Apps, Power Automate, Power BI, and Power Virtual Agents. This knowledge enables you to make informed decisions about adopting the platform and fosters user adoption and organizational success. A strong understanding of the fundamentals is vital for maximizing the potential of the Power Platform in your organization.
Power Platform Solutions Training
Power Platform Solutions are tailored applications and automations designed to address specific business requirements across various industries and functions. By leveraging Power Apps, Power Automate, Power BI, and other Power Platform components, organizations can improve business processes, make data-driven decisions, and enhance both customer and employee experiences. Investing in Power Platform Solutions helps drive innovation and solve complex challenges within your organization.
Power Platform Certifications Training
Power Platform Certifications validate an individual's expertise in various Power Platform technologies, increasing trust and credibility within organizations. Focusing on the PL-100 certification, in particular, demonstrates an individual's proficiency in app making and development, boosting their career opportunities and professional growth. Pursuing Power Platform Certifications helps ensure your team is equipped with the necessary skills to effectively leverage the platform.
Power Platform Online Training
make.powerapps.com: This platform allows users to access, play, and edit Canvas and Model Driven Apps, as well as create Portals, providing a centralized location for app development.
make.powerautomate.com: This online platform enables users to build, manage, and monitor Cloud Flows, Desktop Flows, and RPA solutions, streamlining automation development and management.
admin.powerplatform.microsoft.com: This administrative platform offers a centralized location for managing environments, users, and resources, ensuring effective governance and administration of the Power Platform.
Have a Question ?
Fill out this short form, one of our Experts will contact you soon.