The Power Apps Maker Portal commercial version URL is https://apps.powerapps.com. Power Apps US Government service URL GCC High is https://apps.high.powerapps.us , and for GCC it's https://play.apps.powerapps.us , and for DOD it is https://play.apps.appsplatform.us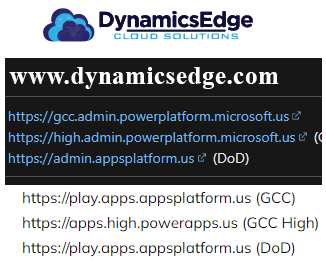 Note that the URL https://play.apps.appsplatform.us repeated twice for GCC and DoD is according to Microsoft docs as of July 29. 2023. If it may be in error, it might be necessary to confirm with Microsoft the correct URL's.
Power Apps is a Microsoft suite that allows individuals and businesses to create custom solutions to address specific needs, simplifying the process of building and deploying mobile and web applications. This potent suite facilitates the quick and efficient building of applications, allowing developers to work with a visual interface, minimal code, and leverage a vast number of connectors to integrate with existing systems.
Power Apps US Government service is a specialized offering, tuned to the unique requirements of US federal, state, and local government entities. Its URLs differ from the commercial versions: the Power Apps Maker Portal commercial version URL is https://apps.powerapps.com. For Power Apps US Government service, the URL for GCC High is https://apps.high.powerapps.us, for GCC, it's https://play.apps.appsplatform.us, and for DoD, it's https://play.apps.appsplatform.us.
Power Apps, both the commercial and government versions, provide benefits such as speeding up digital transformation, fostering innovation by allowing non-technical users to build apps, and encouraging organizational efficiency by connecting to over 1400 out-of-the-box connectors and even custom connectors, all of which help streamline data sources and processes.
PL-100 or the Microsoft Power Platform App Maker certification, verifies the competencies of an individual in designing and building apps using Power Apps. This certification is crucial in one's career progression, as it showcases the individual's skills in data modeling, user experience design, and business process automation. It provides credibility to both commercial and government Power Platform App makers, demonstrating their expertise in using the suite to solve business challenges.
An 'App Maker' generally refers to someone who can design and create a digital solution, i.e., an application, to address specific needs. Within the context of Power Platform, an App Maker takes advantage of Power Apps to develop solutions, using a mix of pre-built templates, drag-and-drop simplicity, and quick deployment options.
Canvas Apps and Model-driven Apps are two types of apps that can be built with Power Apps. Canvas Apps provide a blank canvas where you design the app interface by dragging and dropping elements onto a canvas. It's highly customizable and is ideal for designing apps that need a specific layout that's unique to your business process. On the other hand, Model-driven Apps are based on the underlying data model and business processes. They are best suited when the business process and logic are complex and when multiple roles need to interact with the same data in different ways.
Let's dive into examples for both Canvas Apps and Model-Driven Apps. For instance, consider a federal agency responsible for environmental protection. They might need a Canvas App to capture field data, such as samples or observations. With Power Apps, they can quickly build a mobile app with easy data entry forms, photo capture capabilities, and even offline functionality. On the commercial side, a manufacturing company could develop a Canvas App for quality inspections. This could include features like scanning barcodes, recording inspection data, and reporting defects.
Now, let's consider Model-Driven Apps. In the government sector, perhaps there's a need to manage grants or contracts. They can create a Model-Driven App that tracks every stage of the process, from application to approval, funds disbursement, and reporting. In the commercial world, a sales organization might need a Model-Driven App for tracking their sales pipeline. It could integrate with their CRM system, automate follow-ups, and provide dashboards for pipeline visibility.
When comparing and contrasting the examples, the common theme is that Power Apps helps address specific business needs. However, the specifics, like data sensitivity, regulations, transparency, and public accountability, add extra layers of complexity in government scenarios. Hence, Power Apps US Government service takes these into account, offering the same functionality as the commercial version but with added security and compliance.
As you can see, Power Apps, both the commercial and US Government versions, offer tremendous potential to accelerate digital transformation. Whether you're an app maker in a federal agency or a commercial business, mastering Power Apps and earning a PL-100 certification can propel your career, making you an invaluable asset in today's digitized world.
Have a Question ?
Fill out this short form, one of our Experts will contact you soon.