Power Platform training in August 2023 and beyond includes Power Apps Training for Canvas App Developers, so you may want to check out our PL-400 training 2023 options.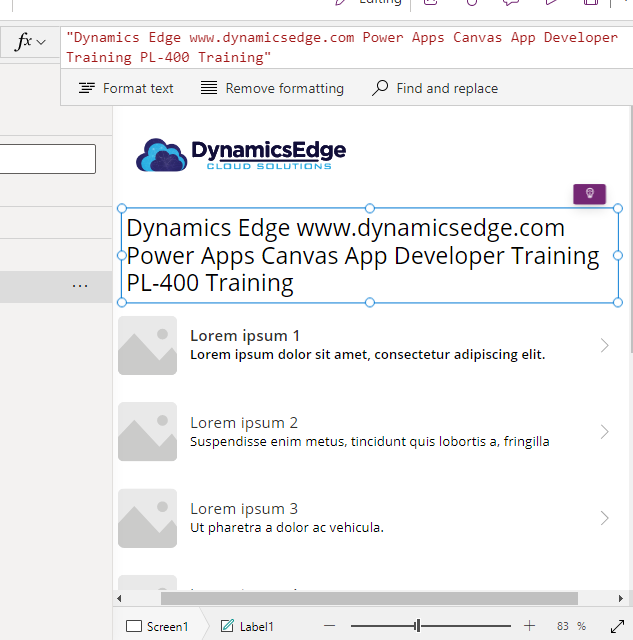 The possibilities within the realm of app development have never been so extensive, and becoming a Power Platform developer opens a universe of digital transformation potential. If you've ever wondered about expanding your expertise or diving deeper into the realm of Canvas Apps, the PL-400 exam can be your stepping stone to mastering these technologies. The Microsoft Power Platform world is a vibrant ecosystem of innovation and the PL-400 is a remarkable tool in understanding its intricate workings and harnessing its full power.
The PL-400, which leads to the Microsoft Power Platform Developer, is a certification designed to evaluate and enhance your ability to work with Microsoft Power Platform solutions. It covers the design, development, security, and troubleshooting aspects of these solutions with emphasis on custom user experiences, system integrations, data conversions, and process automation. This comprehensive approach offers a profound understanding of the capabilities and boundaries of Power Platform, authentication and security, application lifecycle management practices, and the development and integration aspects of the platform.
Upon successfully passing the PL-400 exam, you'll earn the prestigious certification of Microsoft Certified: Power Platform Developer Associate. This recognition is an industry-acknowledged validation of your skills and knowledge in Power Platform services, positioning you favorably in the competitive tech landscape.
As a certified Power Platform Developer, you'll be at the forefront of digital transformation, contributing significantly to organizations by working closely with app makers, functional consultants, solution architects, and IT administrators. Your role might include creating technical designs, developing Power Apps, extending the platform, and developing system integrations.
Taking the PL-400 can enhance your career in various ways, even if you already have prior experience. The certification not only validates your knowledge but also signals to employers your dedication to staying updated with the latest technologies. It can set you apart in the job market, potentially leading to better job opportunities, promotions, or higher salaries.
The PL-400 can deepen your understanding of Power Platform development. The curriculum encompasses key elements of the Power Platform, allowing you to grasp the platform's potentials and how best to leverage them. It can also help you understand Canvas Apps better, even if you're already familiar with them. The exam outlines key aspects of Canvas App development, providing detailed insights into how to create and manage these apps within the Power Platform.
Canvas Apps are a type of Power App that enables you to design and build custom apps, tailoring the user interface to your specific needs. This differs from model-driven apps, which are primarily data-driven and used when the primary focus is on business processes and data handling.
When it comes to deciding between a Model Driven App or a Canvas App for integrating with both a SharePoint List and Dataverse, a Canvas App may be a more suitable choice. This is because Canvas Apps provide more flexibility for customizing the user interface and can easily connect to multiple data sources, which might reduce the amount of custom development required.
The PL-400 can also guide you on when to use a Canvas App versus a Model Driven App, and when to utilize a custom connector or one of the many out-of-the-box Microsoft connectors. It helps you grasp when to create custom solutions and when to rely on existing functionalities, a skill crucial to efficient and cost-effective development.
Moreover, the PL-400 exam can assist you in understanding the intricacies of using Custom APIs. It covers topics such as how to connect to proprietary in-house APIs, and how to use a Custom API with a Power Automate Flow, thus preparing you for a variety of real-world scenarios.
Furthermore, the PL-400 could equip you with insights on Dataverse Plug-Ins, helping you on decide on when to use them and the technical specifics involved. However, while the PL-400 covers a wide range of topics, it may not include certain specialized topics. For instance, for a deep understanding of how to create and use machine learning models within Power Platform, you might need to explore additional resources or certifications.
To conclude, PL-400 is a comprehensive guide to Power Platform development and a valuable asset for any aspiring or seasoned developer. It can enhance your understanding, elevate your skills, and provide you with the tools to thrive in the ever-evolving landscape of app development. We hope you find your journey into the world of Microsoft Power Platform development enjoyable and enlightening, and Dynamics Edge Power Apps training and Power Platform training can truly help you on the way there.
Have a Question ?
Fill out this short form, one of our Experts will contact you soon.