Truly elevate your customer service experience with Office 365 ChatGPT training / Microsoft 365 ChatGPT training with Dynamics Edge!
Get ready to take your Office 365 experience to the next level with ChatGPT! With the convenience of a conversational interface, you can now get your customer's questions answered in a relevant, targeted, and high-quality way, all while using the Office 365 products you know and love. Imagine receiving suggestions for writing in Microsoft Word, such as sentence structure, grammar, idea, argumentation flow, topicality, relevance, effectiveness, and appropriateness of tone for your specific target audience. You can even receive formula suggestions in Excel to streamline your data analysis. And for SharePoint users, ChatGPT can provide recommendations on how to construct a SharePoint List in a better or more appropriate way, such as for integrations with Power Apps Canvas Apps. In PowerPoint, ChatGPT can suggest slide improvements that are more targeted to your audience or are more effective.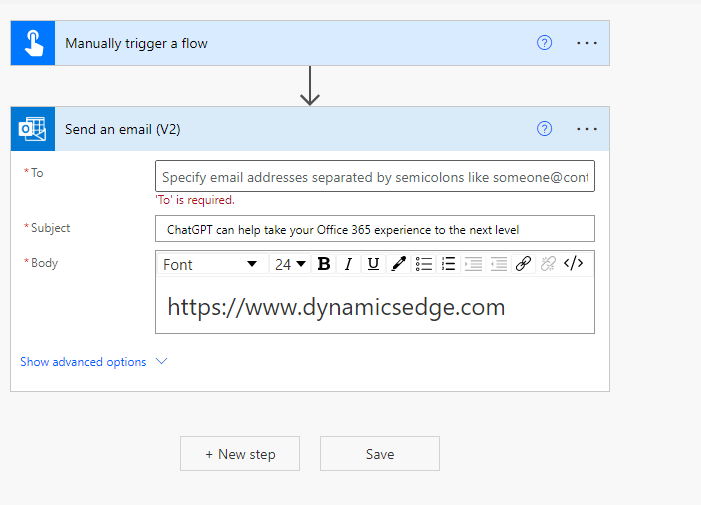 Even Power Automate Flow suggestions are possible! ChatGPT can even provide Canvas App Power Fx formula suggestions for Power Automate. That's not all, ChatGPT can provide valuable suggestions during Teams phone calls, Outlook meeting prioritization suggestions for supercharged productivity, and even Visio diagram suggestions.
With ChatGPT integrated with Office 365, you'll have access to powerful tools that can help you streamline your work processes and improve your productivity. So why wait? Start using ChatGPT with Office 365 today and take your productivity to the next level!
Office 365 ChatGPT Training for
March 2023, April 2023, May 2023, June 2023, July 2023, August 2023, September 2023, October 2023, November 2023, and December 2023. Contact Dynamics Edge for more information!
Have a Question ?
Fill out this short form, one of our Experts will contact you soon.