Dynamics Edge can guide you through exploring Microsoft Fabric's wide range of capabilities, particularly in how government agencies like federal, state and local U.S. government agencies can make the most out of this big data analytics orchestration technology.
To learn more this intricate, robust, and truly powerful platform, you should also check out our Microsoft Power BI Training for Fabric Government April 2024. so you can get a better understanding of the vital role Power BI plays in Microsoft Fabric and big-data analytics. And contact us to get more detail on the Microsoft Fabric Government Training options we may be able to set up for you – so you can get the edge on your data-insights & decisions to improve efficiency, effectiveness, and get better data-driven results.
Microsoft Fabric, with its lakehouse architecture and integration of various data analytics tools, stands as a beacon of innovation in the realm of big data and analytics. It promises not just to transform data management but to revolutionize the way data is used in decision-making, especially in government sectors.
Microsoft Fabric in U.S. Government
OneLake: The Heart of Microsoft Fabric
Let's consider the landscape of data management in U.S. government agencies and how it relates the innovative OneLake architecture of Microsoft Fabric.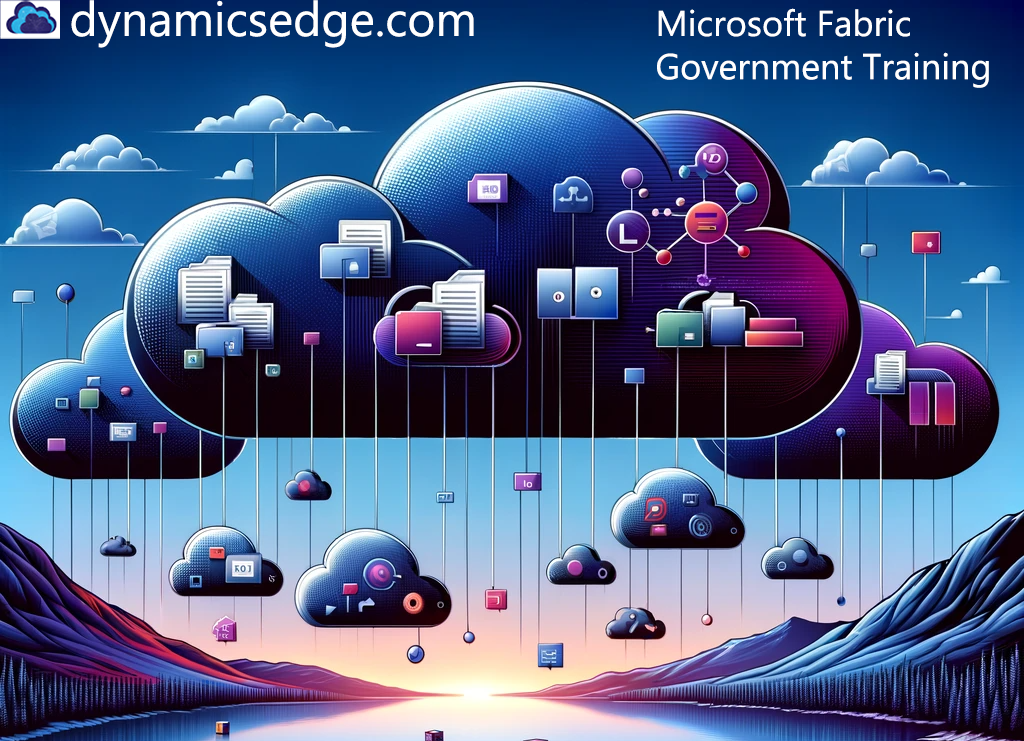 U.S. Government agencies often grapple with the challenge of handling extensive, diverse data sets scattered across numerous departments and geographical locations. The traditional approach, involving the constant movement and duplication of data, is not only cumbersome but also prone to inconsistencies and inefficiencies. Microsoft Fabric addresses these challenges head-on with OneLake, a revolutionary concept that transforms the way government agencies can manage and utilize their vast data resources. By centralizing data storage and eliminating redundancy, OneLake ensures a more streamlined, secure, and accessible data management process, making it an invaluable tool for modern government operations.
OneLake Architecture: Microsoft Fabric introduces OneLake, a lake-centric architecture that unifies storage locations across different regions and clouds into a single logical lake. This approach eliminates the need for moving or duplicating data, streamlining the data management process, a critical aspect for government agencies dealing with data spread across various departments and geographical locations.
Shortcuts Feature: The shortcuts within OneLake allow for quick sourcing of existing cloud data without duplication, ensuring that all Fabric experiences derive data from the same source to remain in sync. This feature is especially beneficial for government sectors where data consistency and accessibility are paramount.
Analytics and Data Management Tools in Microsoft Fabric
Comprehensive Toolset: Fabric offers a suite of analytics experiences designed to work together seamlessly. This includes Synapse Data Engineering for large-scale data transformation, Synapse Data Warehouse for high-performance data storage, Synapse Data Science for scalable model training, and real-time analytics capabilities.
Data Engineering and Transformation: Using Apache Spark, Fabric enables the processing of data in lakehouses through interactive Notebooks or Spark Job Definitions. This can be coupled with SQL endpoints and Dataflows for robust data exploration and transformation.
Spark SQL Integration: The integration of Spark SQL within Fabric allows for the manipulation and querying of data using SQL expressions, a familiar language for many data analysts. This integration eases the transition for government analysts accustomed to traditional data processing methods
Delta Tables and Advanced Data Handling
Delta Table Management: Working with delta tables in Spark within Fabric offers flexibility in data retrieval and modification, including the ability to embed SQL statements in other languages and use time travel for table versioning.
Efficient Data Management: Delta tables support features like transactions, versioning, and streaming data, providing a rich set of tools for government agencies to manage complex data sets efficiently.
Microsoft Fabric in U.S. Government
Centralized Governance and Collaboration: Fabric's administration is centralized in the admin center, which allows for managing groups, permissions, data sources, and performance monitoring. This centralized governance is vital for government entities to maintain data security and compliance.
AI-Powered Capabilities and Real-Time Analytics: Fabric empowers users to develop AI models and perform real-time analytics on a unified platform, which can greatly enhance decision-making processes in government sectors. The platform's ability to deliver insights within familiar Microsoft 365 apps like Excel and Teams further democratizes data access and analysis
Streamlining Data Integration: The platform's code-free and autonomous ETL processes, along with powerful data connectors, facilitate the integration and management of hybrid data, which is a common challenge in government data ecosystems.
Get the Edge on your Data Now
Microsoft Fabric, with its innovative OneLake architecture and a comprehensive suite of tools and features, offers a transformative approach to data management and analytics. For government agencies, this translates to more efficient data handling, enhanced decision-making capabilities, and a significant leap forward in the utilization of big data. The platform's focus on centralized governance, security, and AI-powered analytics aligns well with the critical needs of government sectors, making it a compelling choice for modernizing data infrastructure and processes. To begin your journey to getting the edge on your data now with Microsoft Fabric Power BI training for U.S. Government , ask Dynamics Edge on how we can help you leverage this powerful big-data technology to your advantage!
Have a Question ?
Fill out this short form, one of our Experts will contact you soon.