The MB-300 exam, or Microsoft Dynamics 365: Core Finance and Operations, is designed to validate a candidate's knowledge and skills in working with the core functionalities of Dynamics 365 Finance and Operations.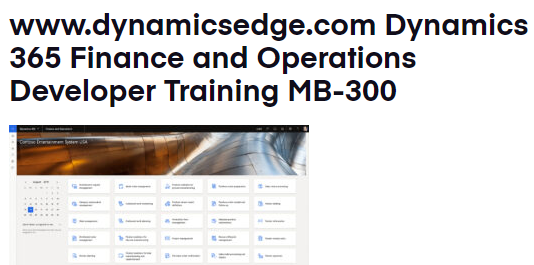 The MB-300 Dynamics certification is essential for professionals who want to gain a deeper understanding of the platform's basic components and become proficient in customizing and configuring it to meet their organization's needs.
A Dynamics 365 Finance and Operations Developer is a professional who specializes in creating, customizing, and extending the Dynamics 365 Finance and Operations applications to meet the specific requirements of an organization. They work closely with solution architects, business analysts, and administrators to develop, test, and deploy custom features, integrations, and enhancements that align with the organization's goals and streamline its financial and operational processes.
Dynamics 365 Finance and Operations (D365 FinOps) is the ERP side of the Dynamics 365 platform, focusing on financial management and supply chain management. It includes Dynamics 365 Finance, which streamlines financial processes, and Dynamics 365 Supply Chain Management, which optimizes procurement, production, inventory, and logistics operations. These applications empower businesses to make data-driven decisions, enhance operational efficiency, and improve overall financial performance.
The MB-300 exam is a crucial certification for professionals looking to specialize in Dynamics 365 Finance and Operations. Developers in this domain play a vital role in customizing and extending the platform to suit an organization's unique needs. By earning the MB-300 certification, you build a strong foundation in Dynamics 365 Finance and Operations, which can be further enhanced with the MB-700 exam, focusing on solution architect roles.
Have a Question ?
Fill out this short form, one of our Experts will contact you soon.