A realm where businesses are seamlessly integrated, driving efficiency, agility, and growth. Buckle up and get ready to dive into the depths of Dynamics 365, a platform designed to breathe life into business operations with innovative apps and services.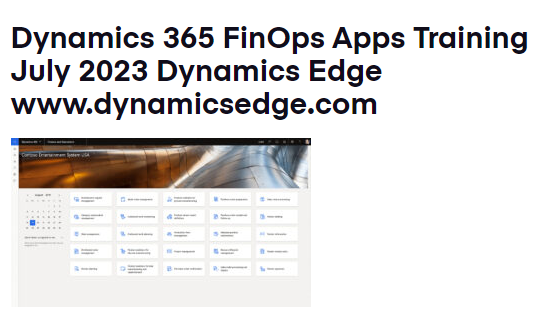 Now, when we talk about Dynamics 365 FinOps apps training, we're talking about a key player in the world of enterprise resource planning, D365 FinOps apps. These apps are designed to aid businesses in managing and operating their finance, operations, manufacturing, and supply chain processes. They are geared towards providing comprehensive and unified solutions that help businesses get a clearer view of their operations, enabling streamlined workflows and informed decision making.
Moving on to Dynamics 365 Finance and Operations training, it's important to understand that this is more than just software; it's an integrated, adaptable business management solution that brings together a suite of functionalities to enhance business processes. By streamlining financial performance, optimizing operations, and automating routine tasks, it paves the way for businesses to gain real-time visibility into their financial health and make strategic decisions.
When we refer to Dynamics 365 Finance and Operations Business Events training, we're discussing a powerful feature known as business events that extends the functionality of this solution. Business Events allow external systems to receive notifications from Finance and Operations apps, enabling additional business actions to be performed in response to these events. This feature truly unlocks the potential of real-time business process integration across various systems.
Dynamics 365 Finance and Operations Apps training again brings us back to the universe of tools and services built around Dynamics 365, designed to make finance and operations more efficient and effective. They provide a holistic approach to managing your business operations, from accounting to manufacturing, all the way to supply chain management.
Next in line is the Dynamics 365 Finance and Operations Apps Developer training – where the developer is really the magician who works behind the scenes. Developers play an integral role in customizing, extending, and building applications within the Dynamics 365 Finance and Operations platform. Their technical prowess is the force that drives business transformation, making Dynamics 365 a truly versatile platform that can adapt to specific business needs.
Revisiting Dynamics 365 FinOps apps training, know that developers like you remain an indispensable tool for businesses seeking to transform their operations. These kinds of apps are particularly valuable due to their deep integration capabilities with other Microsoft services, such as Power BI, Azure, and more.
The role of the developer in Dynamics 365 FinOps Apps Developer training cannot be understated. With a skilled developer's technical acumen, you may further extend the functionalities of critical business applications, making them even more tailored to the needs of individual businesses and organizations.
The Exam MB-300: Microsoft Dynamics 365: Core Finance and Operations is a very important stepping stone for professionals like you that may be looking to demonstrate their expertise in Dynamics 365. Passing this exam proves your competency in using Dynamics 365 for finance and operations, thus enhancing your credentials and potentially opening new career avenues for you!
Now, let's delve deeper into Dynamics 365 FinOps apps. As we have already established, these applications form an integral part of the Microsoft Dynamics 365 platform, providing tools and capabilities for managing various aspects of a business, including finance, manufacturing, and supply chain operations.
Dynamics 365 FinOps apps can be a truly powerful catalyst for transformation, enabling businesses to streamline their operations, make data-driven decisions, and achieve more efficient workflows. With these apps, businesses can manage everything from financial tracking and reporting to inventory and warehouse management, procurement, sales, and more.
These apps offer deep integration with other Microsoft services, allowing businesses to leverage the full power of the Microsoft ecosystem. For example, integration with Power BI provides robust data visualization and analytics capabilities, while integration with Azure offers advanced cloud services, including AI and machine learning tools. This interconnectedness not only enhances the functionality of Dynamics 365 FinOps apps but also facilitates a more unified, streamlined business management experience.
Taking your future forward to the role of a Dynamics 365 FinOps Apps Developer like you, these kinds of professionals are the real wizards who tailor the Dynamics 365 platform to the unique needs of businesses. They effectively utilize the Microsoft Power Platform, Azure services, and other developer tools to customize and extend the functionality of FinOps apps, thereby creating solutions that precisely align with your business objectives. Their work can range from customizing interfaces, integrating third-party systems, automating workflows, to creating custom modules.
Being a Dynamics 365 FinOps Apps Developer really does require a strong understanding of the Dynamics 365 architecture, development frameworks, and best practices. These developers often have a strong background in programming languages such as X++, C#, and JavaScript, as well as experience with Azure DevOps, Power Apps, and Power Automate.
The certification Exam MB-300: Microsoft Dynamics 365: Core Finance and Operations  validates your professional skills and knowledge in implementing and configuring Dynamics 365 Finance and Operations apps. This cert. exam covers topics like setting up and configuring Finance and Operations modules, managing Finance and Operations data and processes, and troubleshooting and testing in Finance and Operations.
Passing the MB-300 exam demonstrates that an individual like you has the strong capability to apply business knowledge with the technical aspects of the Dynamics 365 platform. It's definitely a key credential for you to acquire or upgrade job roles such as solution architects, functional consultants, and developers in the Dynamics 365 space. It's a testament to your professional commitment to mastering the Dynamics 365 platform, showing to employers, business, organizations another kinds of employers, recruiters, etc. that you could be an invaluable asset for those who are seeking to optimize their finance and operations processes using Dynamics 365.
That concludes our whirlwind tour of the Dynamics 365 landscape. Each of these components, from the FinOps apps to the role of developers and the importance of certification, play crucial parts in you harnessing the full potential of Microsoft Dynamics 365 for transforming your business operations. Contact Dynamics Edge to learn more about how modern D365 FinOps Apps can really revolutionize your operations and increase your bottom line.
Have a Question ?
Fill out this short form, one of our Experts will contact you soon.