Take your business to unprecedented heights, streamline operations, and empower your team like never before! Embrace Microsoft's comprehensive business management solution, Dynamics 365, and prepare to witness a complete transformation in how you do business.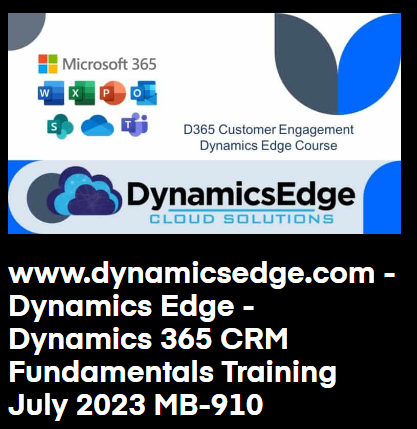 D365, or Dynamics 365 as it's more formally known, is a suite of business applications from Microsoft that integrates ERP and CRM capabilities, revolutionizing the way organizations operate. Dynamics Edge offers D365 Training courses that can help you learn to make the most out of Dynamics! Its functionalities span a wide range of business processes including sales, customer service, field service, human resources, finance, supply chain, commerce and more. Leveraging the capabilities of the cloud, D365 allows users to access data in real-time, thereby facilitating quicker decision-making and fostering a more collaborative work environment.
Dynamics 365 applications are designed to work seamlessly together, and they all share the same data model, making it easier to break down silos within your organization. For instance, sales, marketing, and service teams can share a 360-degree view of customers, ensuring that everyone has access to the same up-to-date, reliable data. This unification of data is one of the primary advantages of D365. To learn more, you may sign up for our Dynamics 365 Training courses or inquire to us for more information.
One of the powerful features in D365 is str2Date, a function in the programming language X++. X++, an object-oriented language, is central to Dynamics 365 Finance and Operations, previously known as D365 AX. The str2Date function aids in converting a string into a date format. This function becomes especially important when dealing with data that is represented in different formats or received from various sources, which often happens in the ever-increasing data-driven world.
Looking for a date in July 2023? Sign up for our d365 training july 2023 today!
Unleashing the capabilities of D365 does not only involve using complex features, but it also involves utilizing basic, yet powerful functions like TRIMLEFT. In the context of Dynamics 365 Customer Engagement, previously known as Dynamics CRM and now operating on the powerful Dataverse platform, TRIMLEFT can play a significant role in data manipulation. This function can remove characters from the left side of a text field, which comes in handy when creating calculated fields to automate manual calculations. Coupled with the TRIMRIGHT function, TRIMLEFT can make data more consistent, improving the quality of data analytics and reporting.
Seeking out dynamics 365 dates in August 2023? Look no further, register now for our d365 training august 2023.
Moving on to another critical aspect of D365, the importance of maintaining accurate audit logs cannot be overstated. D365 audit logs provide a record of system activities, offering visibility into changes made to data, and facilitating better control and monitoring over business processes. It provides insights into who changed what and when, enabling businesses to maintain a high level of security and transparency.
Register now for our September 2023 dates by checking out our d365 training september 2023 today!
For warehouse-oriented businesses, Dynamics 365 offers an advanced feature called Quality Management for Warehouse Processes. This feature automatically generates work as part of the receiving process to move the inventory quantity required for quality control to a quality control location. By integrating quality checks into the core warehouse processes, D365 ensures that inventory meets the required standards, contributing to increased customer satisfaction and reduced costs.
D365 is not just for regular business operations; it also has a version dedicated to government customers called D365 GCC High. D365 Government Community Cloud (GCC) High is designed to meet the unique and evolving requirements of U.S. government agencies. It provides all the robust functionalities of D365 while complying with federal requirements for cloud services, including FedRAMP and DoD IL 5.
Another interesting aspect to discuss about D365 is the concept of Yield Percentage. In manufacturing scenarios, yield percentage refers to the percentage of input that successfully goes through the production process to become final output. D365 provides functionalities to accurately calculate and track yield percentage, aiding in better resource planning, cost calculations, and overall efficiency of production processes.
Now, let's talk about how learning about Dynamics 365 can boost your career. If you're considering a career in this domain, consider taking the Microsoft Certified: Dynamics 365 Fundamentals (CRM) exam, also known as MB-910. This exam covers the features and capabilities of Microsoft Dynamics 365 Marketing, Dynamics 365 Sales, Dynamics 365 Customer Service, and Dynamics 365 Field Service. By passing this exam, you demonstrate a solid understanding of the core capabilities of Dynamics 365 customer engagement apps. This certification can validate your skills, highlight your understanding of business operations and customer engagement, and is recommended for tech-savvy individuals with some basic knowledge of business functions like marketing, sales, and services.
Getting certified in Dynamics 365 Fundamentals can also open new doors in your career. Not only does it make you a more attractive candidate for hiring managers, but it can also help you understand and utilize the suite of Dynamics 365 apps more effectively, enabling you to make a larger impact in your current role. So, if you are ready to elevate your career and your organization's capabilities, now is the time to delve into the world of D365. It's a journey of continuous learning, and the destination is nothing short of transformational.
---
Navigating the complex world of business applications doesn't have to feel like an overwhelming task. With Dynamics 365 at your disposal, you have access to an array of tools designed to streamline your operations and enhance your organization's efficiency. One such tool that stands out is the Dynamics 365 Queue.
Sign up for our Dynamics 365 Training July 2023 today to learn more.
The Dynamics 365 Queue is a powerful feature designed to organize, prioritize, and monitor the progress of your work. It operates much like a real-world queue, providing a sequential order to your tasks and ensuring a systematic flow of work. It becomes particularly useful in customer service scenarios, where it allows customer service representatives to handle issues in an organized manner, ensuring no case is overlooked and every customer query gets the attention it deserves.
Is August 2023 a good time for you? Then sign up for out Dynamics 365 Training August 2023 now before slots fill up!
To add an extra layer of efficiency, Dynamics 365 offers a feature called Queue Shared Mailbox. It's a feature that facilitates the handling of emails in a collaborative environment. By utilizing a shared mailbox, multiple team members can access, read, and manage the emails sent to a common email address. This way, Dynamics 365 Queue Shared Mailbox enables teams to provide a unified response to customer queries and efficiently manage the inflow of emails.
While discussing business applications, a comparison often drawn is Dynamics 365 vs Salesforce. Both are robust platforms, offering a suite of business applications and have their unique strengths. However, Dynamics 365 shines with its seamless integration with other Microsoft products like Office 365, offering a unified experience to users. In addition, its licensing model is often considered more flexible and cost-effective than Salesforce.
Are you also considering moving out of Salesforce and into Microsoft Dynamics 365? Or, maybe you just want to know where  Dynamics 365 can really shine? Check out our Dynamics 365 Training September 2023 and dates all year long in 2023.
A technical aspect worth mentioning when working with Dynamics 365 is its .NET Framework compatibility. The .NET Framework is a software framework developed by Microsoft that runs primarily on Microsoft Windows. It provides a uniform programming model for developing applications that have visually stunning user experiences and seamless, secure communication.
For Dynamics 365, the .NET Framework 4.6.2 or higher is required. This ensures compatibility with the latest security protocols, improves performance, and provides richer functionality for app development. With the .NET Framework 4.6.2 or higher, developers can create solutions that are scalable, secure, and compatible with Dynamics 365.
Understanding and utilizing the functionalities of Dynamics 365 can significantly enhance your business operations. Whether it's streamlining customer service with the Queue feature, managing emails with Queue Shared Mailbox, or developing efficient applications with the .NET Framework compatibility, Dynamics 365 offers comprehensive solutions designed to cater to your business needs.
Grasping the essentials of Dynamics CRM, now known as Dynamics 365, can drastically improve your understanding of customer relationship management and how it can be leveraged to enhance customer interactions. The Dynamics CRM Fundamentals involve the understanding of core features such as contact and sales management, service management, marketing automation, analytics, and integrations with other Microsoft products.
Sign up for our Dynamics CRM Fundamentals Training August 2023 now while slots are still open!
Another critical component to understand is the Dataverse Fundamentals. Previously known as the Common Data Service, Dataverse is the data platform that comes with built-in security, governance, and compliance. It offers a secure and cloud-based storage option for your data, ensuring that it is accessible across all your applications and workflows. Dataverse forms the backbone of your applications and workflows in Dynamics 365, Power Apps, Power Automate, and Power Virtual Agents.
Power BI, Power Apps, and Dataverse are all part of the larger Microsoft Power Platform. Power BI Fundamentals are about creating interactive visualizations and business intelligence capabilities with an interface that is intuitive for end users to create their reports and dashboards.
Register now for Dynamics CRM Fundamentals Training September 2023 as soon as you can while spots are still available!
Power Apps, on the other hand, is a suite of apps, services, connectors, and data platforms that offers rapid application development environments to build custom apps for your business needs. Understanding Power Apps Fundamentals would involve learning about building custom applications, connecting them to your existing business data stored in various online and on-premises data sources, and sharing these apps within your organization.
Within Power Apps, there are two types of apps you can create – Canvas Apps and Model Driven Apps. Power Apps Canvas Apps gives you the flexibility to arrange the user interface and controls the way you want, providing the ability to build an app from scratch with your design. Power Apps Model Driven Apps, however, generates an app based on your data model and business processes, creating a largely pre-defined app layout that adjusts to your data structure.
Check out our MB-910 training course to learn more!
The difference between a Power Apps Model Driven App and Canvas App primarily lies in the design control and data handling. While Model Driven Apps are best when your business process is complex and based on roles and stages, Canvas Apps are better when you need full control over the app layout or when your data comes from multiple sources.
When interacting with Dynamics 365 programmatically, one of the key concepts you need to understand is the Dynamics 365 Bearer Token. The Bearer Token is a cryptic string, usually generated by the server in response to a login request. This token authorizes the user to access the server's resources, acting as a key to the system. In the context of Dynamics 365, this is often used when dealing with the Dynamics 365 Web API.
The Dynamics 365 Web API is a HTTP RESTful API that provides a programming model to work with your data using GET, POST, DELETE, and other HTTP methods. It provides developers with a powerful set of features to perform operations such as Create, Retrieve, Update, Delete, and Execute Functions and Actions.
However, if you're receiving a 'Dynamics 365 Web API 401 Unauthorized' message, it indicates a problem with your authorization process. Often, this is due to an incorrect or expired Bearer Token being used to authenticate your API request.
When it comes to reporting, the Dynamics 365 Report Authoring Extension is a must-know tool. This extension is required to create and customize fetch-based reports. Using SQL Server Data Tools, developers can create complex reports for their Dynamics 365 environments, helping them analyze their data in a way that best suits their business needs.
In a nutshell, mastering the fundamentals of Dynamics 365 and its suite of apps provides a well-rounded understanding of the platform. By harnessing these tools, you're well equipped to tackle a variety of business challenges, enabling you to provide robust, scalable solutions tailored to your specific needs.
The journey towards becoming an expert in Dynamics 365 starts with understanding its fundamentals. The MB-910 exam, officially known as Microsoft Dynamics 365 Fundamentals, plays a crucial role in this journey. It covers the essential elements of Dynamics 365, such as Dynamics 365 Sales, Marketing, Customer Service, and Field Service.
Dynamics 365 Sales, as the name implies, focuses on automating the sales process and boosting productivity among sales teams. The platform provides insights to drive personalized engagement and proactive decision-making. Key features include sales forecasting, opportunity management, and integrations with productivity tools. For instance, the Dynamics 365 Sales Quotation Workflow allows for seamless tracking and management of sales quotations, thereby streamlining the sales process. The D365 opportunity sales process aids in managing the sales pipeline effectively.
Also, Dynamics 365 Sales Insights plays a pivotal role in providing AI-driven insights for sales teams, including features like D365 Sales Insights Auto Capture, which automatically logs customer interaction data, helping sales reps save valuable time and focus on selling.
Creating and managing product offerings efficiently is another crucial aspect of sales. Here, D365 Product Catalog and D365 Product Catalog Hierarchy come into play. These features assist in creating a structured and efficient product catalog for better management and accessibility of products.
Dynamics 365 Marketing, on the other hand, aims to turn prospects into business relationships through personalized, multichannel marketing campaigns. A noteworthy feature is the D365 Marketing Domain Authentication, which involves using SPF, DKIM, and DMARC to validate email sending domains and improve email deliverability rates.
Register for our MB-910 Training July 2023 while it's still possible to do so.
Next, Dynamics 365 Customer Service provides tools to support customer retention through efficient case resolution and superior service experiences. It features Omnichannel capabilities, known as Microsoft Dynamics 365 Omnichannel for Customer Service, which provide a seamless, unified experience across all touchpoints. For instance, the D365 Customer Service Voice Channel and D365 Customer Service Omnichannel allow organizations to provide consistent service, regardless of the channel. However, for the D365 Customer Service Omnichannel hub, it is essential to understand the difference between the Customer Service Hub and the Customer Workspace, as each offers unique capabilities catering to different customer service needs.
Innovative approaches like D365 Customer Support Swarming, where a group of agents collaborate to resolve complex customer issues, are becoming more popular. Additionally, the D365 Customer Aging Snapshot can provide valuable insights into the credit history of customers, aiding in better financial decision making.
Just sign up for our MB-910 Training August 2023 or check out our other dates in 2023.
Dynamics 365 Field Service, the final pillar in the MB-910 exam, provides tools to improve the efficiency of field agents and deliver onsite service to customers. For instance, D365 Field Service Drip Scheduling helps in optimizing resource utilization by dynamically scheduling work orders.
Apart from these modules covered in the MB-910 exam, Dynamics 365 Finance and Operations, though not specifically related to CRM, play a significant role in the overall ecosystem. They cover a wide array of functions, from creating custom workflows in D365FO to D365FO refresh data entities, allowing for comprehensive management of financial and operational data. For example, the D365 Sales Order Workflow enables the creation and automation of sales processes, and the D365 Quarantine Orders feature aids in quality control and compliance.
Features like D365 Intelligent Order Management and D365 Feeder Production Flow are instrumental in enhancing supply chain management, making the operations more resilient and efficient.
Overall, whether you're dealing with sales, marketing, customer service, field service, or finance and operations, Dynamics 365 has the tools to transform your business processes and drive success. It's this comprehensive functionality that makes Dynamics 365 an excellent choice for organizations worldwide. The journey may be long, but the results are worth it!
The world of Dynamics 365 CRM is vast and powerful, driven by the many functionalities it provides to enhance customer relationship management (CRM). At the heart of this is the D365 CRM Software Development Kit (SDK), a set of development tools, sample codes, and resources that enable developers to build and customize applications within the Dynamics 365 platform.
Within the CRM, a crucial aspect is managing and recording customer interactions, often referred to as Activities. In Dynamics 365, there are different activity types, including emails, appointments, phone calls, tasks, and more. These activities allow businesses to track and manage customer engagements across multiple channels effectively.
An integral component of these activities is the ActivityParty entity. In Dynamics 365, an ActivityParty represents a person or group associated with an activity. It can represent various roles like the sender of an email, the organizer of an appointment, or the attendees of a meeting. The ActivityParty entity becomes a vital link connecting activities with the relevant participants.
Understanding the structure of the D365 ActivityParty table is essential in optimizing the use of activities. The ActivityParty table includes information about the party involved in the activity, the activity in which they are involved, their role in the activity, and various other related details.
Enroll now for our MB-910 Training September 2023 while you still can.
Previously, in Dynamics CRM, these tables were referred to as 'Entities.' However, with the evolution of the platform, these Entities are now called 'Tables' in the Dataverse. This change aligns with Microsoft's broader vision to unify the language and framework across its business applications suite.
The ActivityParty list, in this context, refers to the collection of parties associated with a particular activity. For example, in an email activity, the ActivityParty list would include the sender and all the recipients of the email.
A feature related to the ActivityParty list is the PartyList field type. In Dynamics 365, a PartyList is a data type that can store references to multiple records of multiple types. In other words, a PartyList field could hold references to contact records, user records, and team records all at the same time. This field type is particularly useful when dealing with activity entities where multiple parties can be associated with a single activity.
These concepts, though seemingly complex, make Dynamics 365 a robust and versatile CRM system. They allow for seamless management of customer interactions across various channels, enhancing the customer experience and driving effective customer relationship management.
Sign up right now for MB-910 Training August 2023 before the August slots fill up!
In a world where sales form the backbone of any business, Dynamics 365 for Sales provides a comprehensive suite of tools to handle any sales process. One such indispensable tool is the D365 sales price list. This feature allows you to define different pricing structures for your products and services, tailoring them to different customer segments, markets, or promotional campaigns.
When it comes to integrating and upgrading your solutions in D365 Sales, the solution import functionality allows you to import solutions packaged in other environments, bringing in customizations and extensions easily. This process can be particularly useful in deploying changes from a development or testing environment to the live production environment.
The default solution in D365 Sales is a unique solution that includes all components in the system. It's a comprehensive view of all customizations in the system and is useful when you want to view or customize components not included in any other unmanaged solution.
Further enhancing Dynamics 365 capabilities is the advent of Power Apps, particularly the ability to create an embedded Canvas App. The D365 embedded Canvas App allows you to design and develop custom apps and integrate them within your D365 environment. These apps can provide tailored experiences and workflows directly within your D365 interface.
A key component for creating these embedded canvas apps is the 'ModelDrivenFormIntegration' control. This control is used in a canvas app to display and interact with the form data of a Model-Driven App. It simplifies the process of integrating the data and actions from a Model-Driven Form into a Canvas App.
For analytics and data visualization, D365 Power BI Embedded allows you to integrate Power BI dashboards, reports, and tiles into your Dynamics 365 application. This provides rich, interactive data insights right within your D365 interface, supporting better-informed decisions based on real-time data.
Last but not least is Power Fx, a low-code language for expressing logic across the Microsoft Power Platform. With D365 Power Fx, you can develop complex business logic without the need for extensive coding knowledge, democratizing the app development process within your organization. This makes Dynamics 365 not just a powerful business tool, but also an enabler of digital transformation and process efficiency.
Our Dynamics CRM Fundamentals Training course can help you learn all this and much more.
The evolutionary journey of Dynamics AX to Dynamics 365 Finance and Operations, the transformation from a traditional ERP solution to a comprehensive, cloud-based business application suite, is truly remarkable. Not directly related to Dynamics 365 Customer Engagement products, D365 Finance and Operations does offer powerful functionality for financial management, supply chain management, retail and commerce, and more. It also facilitates global businesses with features like the D365 Harmonized Tariff Schedule, which supports compliance with international trade laws and regulations by assigning the correct tariff codes to products.
---
The Dynamics CRM suite, now part of the broader Dynamics 365 Customer Engagement, is a powerful platform designed to manage and improve customer interactions. It has evolved significantly, starting from a standalone CRM system to becoming a comprehensive suite of apps including Dynamics 365 Sales, Customer Service, and Field Service.
This is where our Dynamics CRM Training can help you learn more about it.
In the realm of Dynamics 365 Sales, functionalities such as lead and opportunity management form the core. This revolves around the sales process, which transits from lead to order, involving stages like prospecting, qualifying, and closing deals. Another vital aspect is the product catalog and sales price lists, used for managing product offerings and their pricing, essential for sales operations and management.
Next, Dynamics 365 Customer Service aims to deliver exceptional customer service experiences. Key features include case management, which helps streamline the tracking and resolution of customer issues. In addition, knowledge articles empower customer service agents with a rich knowledge base, and service level agreements set the expected service standards.
Dynamics 365 Field Service focuses on managing a mobile workforce effectively. It oversees work orders and scheduling, allowing service organizations to deliver on-site service to customer locations. The role of work orders, scheduling tools, and resource management is pivotal in these scenarios.
At the heart of all these apps is Dataverse, previously known as the Common Data Service. As the data backbone of Dynamics 365 and Power Platform, it houses entities (now referred to as tables), which are crucial for structuring data in the system.
Data visualization and analysis in Dynamics 365 are made easy with Power BI. It offers the ability to create insightful reports and dashboards, enabling businesses to make data-driven decisions.
Automation within the Dynamics ecosystem is handled by Power Automate. It is adept at creating workflows to automate repetitive tasks, leveraging the concept of triggers and actions.
Power FX, the low-code language for expressing logic in Power Platform, has democratized the process of building business logic into apps. Learn more in our Dynamics CRM Training July 2023.
Lastly, Power Apps is a significant aspect of Dynamics 365 Customer Engagement, offering tools to build both canvas and model-driven apps. Canvas apps are highly customizable, while model-driven apps are based on the underlying Dataverse data model. Recognizing the difference between these two types of apps is crucial to leveraging them effectively.
By diving into these fundamentals of Dynamics 365, you are taking the first steps towards mastering this comprehensive suite and unlocking its potential to drive your business.
Incorporating the latest best practices of Dynamics 365 CRM involves not only mastering its fundamentals, such as through our Dynamics 365 CRM Fundamentals Training  but also being in sync with the technical updates and enhancements Microsoft continually introduces. One such significant advancement is the shift from Dynamics CRM to Dynamics 365, along with the continuous improvement of features, compatibility, and the integration of artificial intelligence. More on this in Dynamics CRM Training September 2023
Dynamics 365 Sales, for instance, has evolved beyond a simple customer relationship management tool. Learn more at Dynamics 365 CRM Training– and with features like Dynamics 365 Sales Insights, it now provides predictive lead and opportunity scoring, revolutionizing how sales teams prioritize their pipeline.
Moreover, the Dynamics 365 suite offers robust customization and configuration options. For instance, the Dynamics 365 CRM Configuration Migration tool simplifies moving configuration data across different environments or tenants. Customization  (learn more with out also extends to reporting, where tools like Dynamics 365 Report Authoring Extension facilitate designing and managing reports that tap into the CRM data.
In terms of data management, Dynamics 365 offers powerful query capabilities. The FetchXML language allows complex data operations, including aggregation and grouping, which adds to the system's flexibility. Deprecated APIs, like `Xrm.Page.getattribute`, have been replaced by newer, more robust options such as `formContext.getattribute` to keep up with the evolving platform architecture. Recognizing the potential pitfalls associated with using deprecated APIs is critical as they will be removed in future releases.
On the technical front, Microsoft has reorganized the Xrm client API object model to align better with different contexts or clients (web client or the new Unified Interface). The goal is to allow the same client scripts to run without changes based on their environment. For example, `Xrm.Page.context` has been replaced with `Xrm.Utility.getGlobalContext`. Similarly, `Xrm.Page.context.getQueryStringParameters` is now `formContext.data.attributes`. Such changes ensure consistency across entity forms, metadata-driven dialogs, and task-based flows.
The Dynamics 365 suite has also significantly improved its search capabilities with the Relevance Search API, offering better performance and comprehensive results. Error handling and resolution have seen enhancements as well, with specific error codes like 'Dynamics 365 Web API 401 unauthorized' providing clearer context for diagnosing issues.
Even while addressing modern business requirements like price variance, with features like Dynamics 365 Purchase Price Variance, the platform ensures it is up to speed with technical updates. Microsoft continually provides fixes to technical issues like the Dynamics 365 OLEDB timeout, ensuring smoother operation and optimal performance of the platform.
The transformation journey from Dynamics CRM to Dynamics 365 and beyond is ongoing. It's critical to keep pace with these changes, be it the shift from Entities in Dynamics CRM to Tables in Dataverse or keeping track of the deprecated XRM.utility APIs and their replacements. Doing so will ensure that your business can harness the full potential of the Dynamics 365 suite of products.
Dynamics CRM, now evolved into Dynamics 365 Customer Engagement, revolutionizes the way organizations manage their customer interactions, extending well beyond traditional CRM boundaries. We see this in the broad suite of Dynamics 365 apps tailored to enhance different aspects of business operations.
Let's start with Dynamics 365 Sales, a powerhouse application designed to streamline sales processes and boost revenue. The critical components of this app include lead and opportunity management. A lead in Dynamics 365 Sales represents a potential sales opportunity. This lead is tracked in the Lead Table until it qualifies for further interaction, at which point it transforms into an opportunity and moves into the Opportunity Table.
Opportunities, tracked in the Opportunity Table, are sales deals in progress. Learn more: Dynamics 365 CRM Training September 2023 – an example of the sales process would involve converting a lead into an opportunity, advancing through various stages of the sales cycle, and eventually closing as won or lost. This sequence is efficiently managed through business process flows in Dynamics 365, providing a guided path for users.
Dynamics 365 Sales also allows businesses to build a comprehensive product catalog and sales price lists. The product catalog lists all the products or services a company sells, while sales price lists determine the pricing strategy for various customer segments.
Switching our focus to Dynamics 365 Customer Service, we find a powerful tool for enhancing customer interactions. The importance of case management in customer service is paramount. The case entity, represented in the Case Table, enables organizations to track, manage, and resolve customer inquiries or issues effectively.
Knowledge articles empower customer service agents, providing them a repository of solutions and advice to resolve customer issues faster. Dynamics 365 CRM Training August 2023 is available for you now. This repository can be a game-changer for customer satisfaction. Moreover, service level agreements (SLAs) set the service standards, defining the timeline for case resolution and setting customer expectations right.
Dynamics 365 Field Service is another major player in the Dynamics 365 suite, especially for businesses with a mobile workforce. The work orders are the backbone of field service operations, defining the work to be done and tracked in the Work Order Table. The scheduling feature ensures the right resources are allocated at the right time, improving operational efficiency.
Underpinning these Dynamics 365 applications is the Dataverse, formerly known as the Common Data Service. Dataverse is essentially a cloud-based storage platform for data. Its structure revolves around entities, now known as tables, that store data in a structured format. Key tables include the Account Table, which stores information about companies that your business interacts with, and the Contact Table, which stores information about individuals involved in those interactions.
The visualizing and interpreting of Dynamics 365 data are enhanced by Power BI, a robust business analytics tool. With Power BI, you can build visual reports and dashboards, making it easier to interpret data and derive insights. Power BI training is available at Dynamics Edge, or to learn about Dynamics 365, see our Dynamics 365 CRM Training July 2023 for more info.
When it comes to automating tasks and creating workflows, Power Automate stands out. You can design workflows triggered by specific events (triggers) and define the subsequent actions. This automation significantly reduces manual efforts and increases process efficiency.
Power FX is a low-code language used for building business logic in apps, offering a simplified approach to app development. This ease is further amplified by Power Apps, another application in the Power Platform, get more info in our Dynamics 365 CRM Training July 2023 offerings. Power Apps includes two types of apps: canvas apps, which provide a high degree of customization, and model-driven apps, which are based on the underlying Dataverse data model.
These fundamental aspects of Dynamics 365 collectively drive business performance and outcomes. They allow organizations to have a holistic view of their operations, foster strong customer relationships, and make data-driven decisions, truly transforming the way businesses operate. The predictive lead scoring in Dynamics 365 Sales is an excellent example of this data-driven decision-making, enabling sales teams to prioritize leads based on their potential to convert.
In the end, understanding these Dynamics 365 fundamentals provides the foundation needed to leverage this powerful suite of applications to its full potential.
Dynamics 365 CRM Fundamentals Training July 2023
Dynamics Edge offers Dynamics 365 CRM Fundamentals Training course offerings in July, August, and September 2023.
Dynamics 365 CRM Fundamentals Training August 2023
So check out our Dynamics Edge Dynamics 365 Training, Dynamics CRM training, and more.
Dynamics 365 CRM Fundamentals Training September 2023
Dynamics Edge offers Microsoft Dynamics 365 training course offerings for dates all year long in 2023 including July 2023, August 2023, September 2023 and more. Learn how to leverage D365 to make the most out of what you want to accomplish by enrolling in a Dynamics Edge course today while slots are still open.
Have a Question ?
Fill out this short form, one of our Experts will contact you soon.