Enhance your customer service experience by providing customers with a conversational interface to interact with your organization. Get your questions answered not only automatically with ChatGPT but in a relevant, targeted and high quality way directly in Dynamics 365! Use chatbots that can answer your customer's questions for personalized service, or even have Dynamics 365 ChatGPT assist with purchases to free up your human capital. Use voice assistants that can help customers navigate through complex processes. Some of this is already possible now, and some of this may become possible in the future – and with the rapid development of OpenAI ChatGPT, even the very near future, in some cases!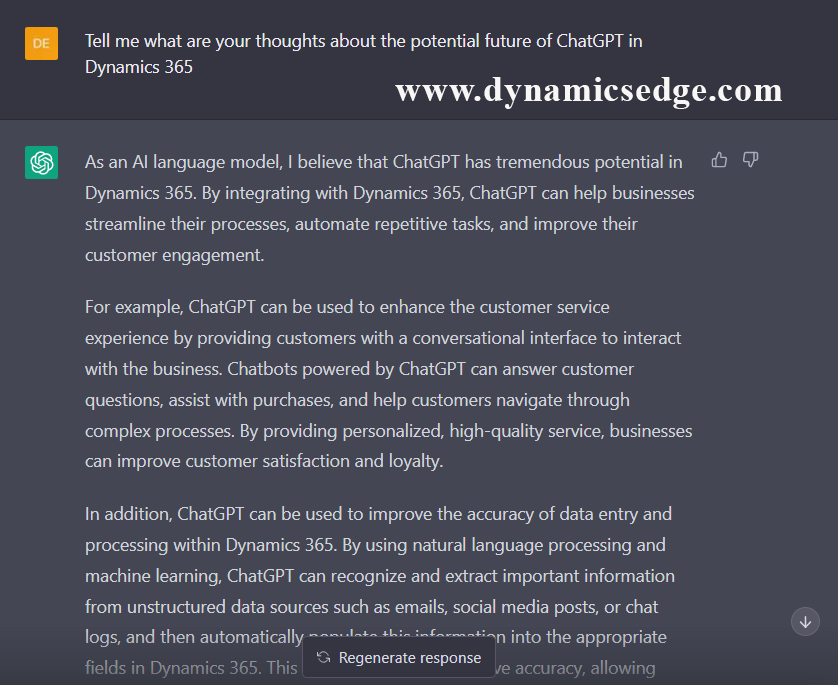 Streamline your data entry and processing in Microsoft Dynamics 365 with ChatGPT's natural language processing and machine learning capabilities. Train ChatGPT to extract and automatically populate key information from unstructured data sources such as emails, social media posts, or chat logs into the appropriate fields in Dynamics 365. Save time and improve accuracy with this powerful integration.
Gain deeper insights into your customers and optimize your strategies with ChatGPT's advanced analytics and insights. Integrate ChatGPT with Dynamics 365 to analyze customer conversations and interactions for patterns and trends that can inform your marketing, sales, and customer service strategies. Stay ahead of the game and make data-driven decisions with this game-changing integration.
Dynamics 365 ChatGPT Training for
March 2023, April 2023, May 2023, June 2023, July 2023, August 2023, September 2023, October 2023, November 2023, and December 2023. Contact Dynamics Edge for more information!
Have a Question ?
Fill out this short form, one of our Experts will contact you soon.