Unlock a world of opportunities and elevate your career by becoming a Microsoft Certified: Dynamics 365 Business Central Functional Consultant Associate!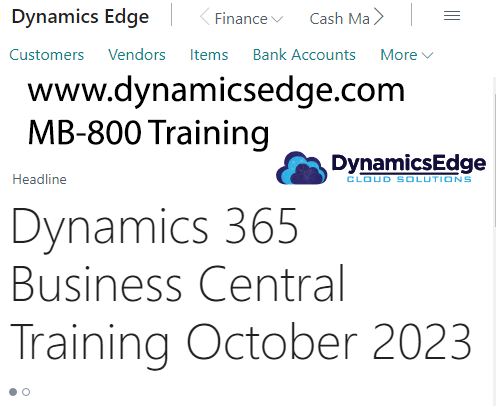 Dynamics Edge high quality Microsoft Dynamics 365 Business Central training empowers businesses with unparalleled flexibility and efficiency on Microsoft's comprehensive enterprise resource planning (ERP) solution. Dynamics Edge's MB-800 training prepares you for a role that's not only essential but increasingly in demand while also helping you on your way to preparing for the MB-800 certification exam. This is your chance to stand out in the world of Microsoft Dynamics 365 Business Central Consulting.
Dynamics 365 Business Central is a formidable player in the ERP space, offering a seamless, end-to-end business management solution. With the cloud's power, it integrates all aspects of a business, from financials and operations to customer relations and human resources. Becoming certified in this area provides a significant advantage, especially if you're seeking roles such as a D365 BC Consultant or Dynamics 365 BC Functional Consultant.
You might be wondering, what makes MB-800 so essential for career advancement? First, the certification proves that you have a broad understanding of Dynamics 365 Business Central functionalities. It establishes that you are competent in setting up core modules, customizing user interfaces, and even integrating the solution with third-party services. D365BC Consulting firms often prioritize candidates with this certification, as it guarantees a level of expertise that can immediately add value to client projects. And D365BC training by Dynamics Edge can help you on your way to preparing for this MB-800 certification!
Having trouble understanding how to set up a chart of accounts in Business Central? Mastering such essential components within Business Central speaks volumes about your functional consulting skills. That's why you should enroll in Business Central training with Dynamics Edge. A well-configured chart of accounts can be a game-changer, offering detailed financial insights that can guide business strategy. It's these kinds of tasks that you'll be trusted to handle as a Dynamics 365 BC Consulting professional, making your role pivotal in optimizing and streamlining an organization's operations.
The beauty of MB-800 and the Dynamics 365 Business Central Functional Consultant Associate certification is their relevance across various industries. Whether it's retail, manufacturing, or service-based sectors, your skillset will apply. This universality ensures that your career prospects are not limited, offering a wide array of opportunities where your expertise can shine.
The certification process itself is designed to mold you into a capable and versatile consultant. It goes beyond just passing an exam. You'll gain hands-on experience through labs and practical exercises, reinforcing your understanding of complex concepts. This makes you not just a certified consultant, but a highly employable one. Such hands-on practice is invaluable and often looked upon favorably by employers in D365 BC Consulting.
There's also a community aspect to consider. Being certified opens doors to networking opportunities with other professionals in the field. These connections can lead to collaborations, partnerships, or even job offers. The value of being part of an elite group of Dynamics 365 BC Functional Consultants cannot be understated.
Say you encounter an error message that halts your workflow: "You cannot assign new numbers from the number series." This error is typically displayed when you are trying to create a new record, such as an invoice, order, or customer, in Dynamics 365 Business Central. The system uses number series to automatically generate unique identifiers for these records. When this error appears, it essentially means that the system is unable to assign a new, unique number from the existing number series, preventing you from successfully creating or updating the record in question.
In Business Central consulting this is just one of many possible scenarios you encounter. The root cause of this particular issue can vary. One possibility is that the number series associated with the record type has been exhausted, meaning all possible numbers in the series have been allocated. Alternatively, there could be a configuration issue; for instance, the number series may have been incorrectly set up, or the number range might have been modified. To troubleshoot and resolve the issue, start by checking the configuration of the number series under setup options to ensure it is properly defined. Confirm that the 'Starting No.' and 'Ending No.' fields within the number series are correctly set. If they are, try to manually refresh or update the series. If you find that the number series has been exhausted, you may need to either extend the range or create a new number series. You should remember to test after making changes to ensure the issue has been resolved.
Navigating the complexities of procurement has never been easier, thanks to the Dynamics 365 Business Central Purchase Approval Workflow, something you might learn more about in our D365BC MB-800 training course. This intelligent system puts the power in your hands to precisely designate roles, from the accounting manager's unfettered purchase oversight to the purchasing agent's ability to autonomously process orders up to a specific limit. Notifications keep everyone in the loop, ensuring seamless coordination and timely approvals.
But the D365BC Purchase Approval Workflow ends up being more than just a mechanism; it's actually an interesting lens into the art of decision-making, illuminating how a well-designed workflow can not only improve operational efficiency but also ensure compliance and control. This powerful tool offers a hands-on way to dive deep into the nuanced responsibilities allocated to different roles. The experience is not just about setting up a system; it's about mastering the intricate dance of approvals, checks, and balances that fuel a successful procurement strategy.
In the rapidly evolving landscape of business technology, it's essential to stay ahead of the curve. Organizations are in a continuous search for skilled individuals who can help them leverage Dynamics 365 Business Central to its fullest potential. By obtaining the MB-800 certification, you're positioning yourself as a top contender in this exciting and rewarding field.
So why wait? Embark on a journey that promises a flourishing career, backed by the prowess of Microsoft Dynamics 365 Business Central. The MB-800 certification serves as both a beacon and a passport, guiding and transporting you to new career heights. With the skills and knowledge you'll acquire, you'll be more than just another consultant; you'll be a transformative force in the realm of Dynamics 365 BC Consulting.
Your future as a Microsoft Dynamics 365 Business Central Functional Consultant may well be just an exam away. Prepare, certify, and pave the way for a rewarding career that not only boosts your professional value but also empowers businesses to achieve more. You've got the resources and the potential; all that's left is to take that vital step. And remember, it's not just about the destination but also the enriching journey that MB-800 and Business Central offer.
Your pathway to becoming a leading figure in the Business Central ecosystem begins now. Fuel your career ambitions with the right certification and join the ranks of esteemed Dynamics 365 BC Functional Consultants. With your expertise, you can shape the future of businesses, making them more agile, informed, and equipped to meet the challenges of the modern world. Let's make your career aspirations a reality and transform your career and organization today with Dynamics Edge's D365BC Training and D365BC Consulting options.
Have a Question ?
Fill out this short form, one of our Experts will contact you soon.