Discover the incredible potential of Dynamics 365 with a range of products tailored to enhance your business processes. Transform your operations, elevate your customer interactions, and boost your productivity with cutting-edge Microsoft Dynamics 365 solutions that can be tailored to your unique requirements.
Learn how you can delve into the fascinating world of Dynamics 365 and elevate your business to new heights with Dynamics Edge!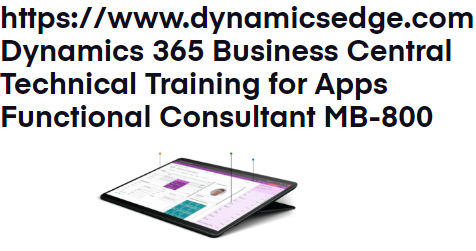 Dynamics 365
Dynamics 365 is a suite of intelligent cloud-based business applications that streamline processes, increase productivity, and enhance customer interactions. This modular platform is important as it allows businesses to choose the applications that best fit their needs, ensuring efficient operations and easy scalability. Key aspects of Dynamics 365 include seamless integration with other Microsoft products, a wide range of applications tailored for various industries, and the ability to customize and extend functionalities.
MB-800
The MB-800 exam is a certification test for Dynamics 365 Business Central Functional Consultants. This exam validates a candidate's knowledge and expertise in setting up, configuring, and managing Business Central applications. Passing the MB-800 exam demonstrates a consultant's proficiency in helping businesses optimize their operations and make informed decisions using Dynamics 365 Business Central.
The MB-800 certification helps businesses optimize their operations and make informed decisions using Dynamics 365 Business Central by ensuring that their consultants possess in-depth knowledge of the platform. Certified professionals can effectively analyze business requirements, recommend tailored solutions, and configure the system to align with a company's unique processes. By leveraging the expertise of MB-800 certified consultants, businesses can uncover hidden insights, improve decision-making, and increase overall efficiency, contributing to a more competitive and agile organization.
Dynamics 365 End User
Dynamics 365 end users are individuals who utilize the platform's applications to carry out their daily tasks, making their work more efficient and productive. As the primary users of the system, they play a critical role in ensuring the successful implementation and adoption of Dynamics 365 within a company. It's essential for D365 end users to be well-trained in navigating the platform, understanding its features, and leveraging its capabilities to maximize the benefits of Dynamics 365.
It is essential for Dynamics 365 end users to be well-trained in navigating the platform, understanding its features, and leveraging its capabilities to maximize the benefits of Dynamics 365 because their proficiency directly impacts the success of the system's implementation. A well-trained end user can effectively utilize the platform's tools and features, resulting in higher productivity, better decision-making, and improved customer experiences. Additionally, when end users are skilled in using the platform, they can provide valuable feedback to the development team, facilitating continuous improvement of the system and ensuring it stays aligned with the evolving business needs.
Dynamics 365 Weekend
Dynamics 365 Weekend refers to the training and workshops offered on weekends to help professionals develop their skills and knowledge in Dynamics 365 products. Dynamics Edge does not usually offer training on weekends, however, you may contact us if you have a special request and we can see what we can do to help you. These sessions are crucial as they allow working individuals to balance their career development with their personal lives. Weekend trainings cover various topics, such as administration, customization, and integration, enabling participants to gain a comprehensive understanding of Dynamics 365 solutions.
Administration, Customization, and Integration in Dynamics 365
In Dynamics 365 products, administration refers to the management and configuration of the system to ensure its smooth operation, including user management, security settings, and system updates. Customization involves tailoring the platform's features and functionalities to meet specific business requirements, such as modifying forms, creating custom entities, and implementing business logic. Integration is the process of connecting Dynamics 365 with other systems and services, like CRM, Power Apps, Power BI, SharePoint, or Office 365, to create a seamless data flow and a unified user experience. These concepts are essential for creating cohesive, efficient, and tailored solutions in Business Central and FinOps, as well as other Dynamics 365 applications.
Dynamics 365 Weekdays
Dynamics 365 Weekdays focuses on training and workshops that take place during the workweek, providing employees with opportunities to expand their skills in Dynamics 365 products. Dynamics Edge usually offers Dynamics 365 training, Power BI training, SharePoint training, and more Microsoft training, on weekdays. These sessions may cover areas like SharePoint integration, Power BI analytics, and other relevant topics. By investing in continuous learning, professionals can stay up-to-date on the latest features and advancements in Dynamics 365 solutions, enhancing their value to the organization.
Continuous Learning and Its Importance
Investing in continuous learning is crucial for professionals working with Dynamics 365 solutions, as it enables them to stay up-to-date on the latest features and advancements, especially in Business Central. This knowledge enhances their value to the organization by ensuring they can effectively implement, configure, and manage the system to deliver optimal results. Staying current with industry developments also allows professionals to identify potential opportunities for improvement, streamlining processes, and ensuring the organization remains agile and competitive in the market.
Dynamics 365 Business Central
Dynamics 365 Business Central is an all-in-one business management solution designed for small and medium-sized businesses. Its importance lies in its ability to streamline financials, optimize supply chain management, and enhance customer service. Business Central offers a range of essential features, including real-time financial visibility, advanced forecasting tools, and seamless integration with other Dynamics 365 applications.
Business Central
The AL (Application Language) in Business Central is the modern programming language used for developing extensions and customizations. AL is vital for customizing and extending the capabilities of Business Central, enabling developers to create tailored solutions that cater to specific business requirements. By leveraging AL, organizations can ensure their Business Central implementation aligns with their unique processes and needs.
Dynamics 365 Business Central Functional Consultant
A Dynamics 365 Business Central Functional Consultant is an expert in implementing and configuring Business Central solutions to meet the needs of various organizations. These professionals play a pivotal role in helping businesses optimize their operations, streamline processes, and make data-driven decisions.
Real-time financial visibility, advanced forecasting tools, and seamless integration with other Dynamics 365 applications, along with the use of AL, empower organizations to implement tailored solutions that cater to specific business requirements. In the retail industry, a Business Central solution can be customized to provide personalized product recommendations, streamline the checkout experience, and manage stock levels. In the hotel sector, a tailored solution can facilitate room booking management, optimize pricing strategies, and improve guest experiences through targeted marketing campaigns. In car sales, a customized Business Central implementation can help manage inventory, automate sales processes, and analyze customer data to identify trends and preferences, leading to more effective sales strategies. These examples demonstrate how Dynamics 365 Business Central Functional Consultants can leverage the platform's capabilities to create industry-specific solutions that drive success.
Dynamics 365 Administration Center
The Dynamics 365 Administration Center is a centralized hub that allows administrators to manage and configure various aspects of their Dynamics 365 applications. This includes tasks such as managing users and licenses, setting security roles, configuring data integration, and monitoring system performance. Effective administration ensures that the platform operates smoothly and securely, maximizing its potential benefits for an organization. With the proper management of the Administration Center, businesses can maintain a streamlined and organized system, enhancing overall efficiency and empowering users to focus on their core tasks without distractions or disruptions.
Dynamics 365 Technical
Dynamics 365 technical aspects involve the development, customization, and maintenance of the platform's underlying infrastructure, including application code, data management, and system integrations. Technical expertise is crucial for creating tailored solutions, extending the platform's capabilities, and ensuring seamless interoperability with other systems. By leveraging the skills of Dynamics 365 technical professionals, organizations can benefit from advanced solutions that are scalable, reliable, and secure. These professionals can develop custom applications, automate processes, and integrate with existing systems, allowing businesses to harness the full power of Dynamics 365 and achieve their goals.
Dynamics 365 Business Process Modeling
Business process modeling in Dynamics 365 is the practice of visually representing an organization's workflows and processes within the platform. This helps organizations identify inefficiencies, streamline operations, and align their technology with their unique business needs. By leveraging the platform's robust modeling capabilities, businesses can create a digital representation of their processes, enabling them to analyze and optimize each step for enhanced performance. This holistic approach to process improvement can result in significant cost savings, increased productivity, and improved customer satisfaction as organizations refine their operations to better serve their objectives.
Dynamics 365 KPI
Key Performance Indicators (KPIs) in Dynamics 365 are essential metrics that help organizations monitor their performance and progress towards specific goals. These metrics provide actionable insights, enabling businesses to make informed decisions and adjust their strategies as needed. With Dynamics 365, organizations can easily track, visualize, and analyze KPIs across various applications, allowing them to gain a comprehensive understanding of their performance. This real-time access to critical information empowers businesses to proactively identify trends, address challenges, and capitalize on opportunities, ultimately driving success and growth. KPIs in Dynamics 365 are customizable and can be tailored to suit each organization's unique requirements, ensuring that the most relevant and impactful metrics are monitored and utilized for continuous improvement.
Have a Question ?
Fill out this short form, one of our Experts will contact you soon.