ChatGPT Azure, powered by Azure OpenAI Service, is an innovative natural language processing tool designed to help businesses transform their operations by providing a conversational interface for users to get answers to their questions. If you've heard of ChatGPT and have access to Azure, this tool can be extremely valuable in various scenarios, even if you're not fully familiar with the Azure OpenAI service.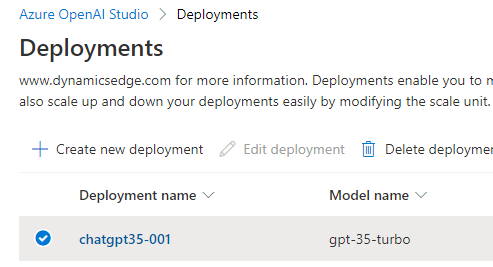 To begin, you should apply for access to ChatGPT on Azure. You likely won't have access to it by default. By default, you should see a screen like this: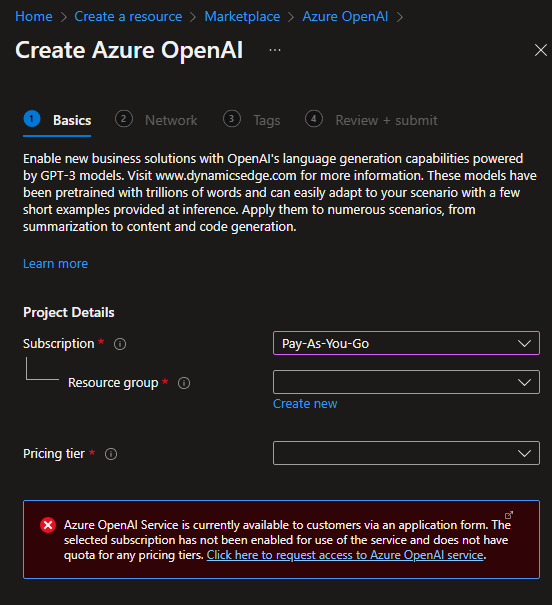 "Azure OpenAI Service is currently available to customers via an application form. The selected subscription has not been enabled for use of the service and does not have quota for any pricing tiers. Click here to request access to Azure OpenAI service."
So what this means, is that access is granted through an application process through Microsoft, and approval may be on a case-by-case basis.
Start by completing the form at https://aka.ms/oai/access. Once approved, you can access ChatGPT 3.5, and subsequently, apply for ChatGPT 4 access afterwards at https://aka.ms/oai/get-gpt4 after you have checked on ChatGPT 3.5 on Azure first to see how it can help revolutionize your organization.
Dynamics Edge can help you in terms of understanding how to leverage ChatGPT on Azure, with our ChatGPT Azure training and Azure OpenAI Service training for your success.
After gaining access, the first place you may want to go, after successfully deploying the model, is Azure OpenAI Studio – which is an online platform that allows you to interact with ChatGPT on Azure easily.
To get started, go to https://oai.azure.com/ and sign in using the Microsoft credentials for your Azure account that has access to the subscription which was approved by Microsoft during your application process.
Then, select "ChatGPT playground (Preview)" to begin a chat session and explore the capabilities of ChatGPT on Azure.
There's far more you can do from here. For further help, inquire to Dynamics Edge about potential Azure OpenAI Studio training options.
One of the key benefits of ChatGPT Azure is its ability to understand natural language queries, making it accessible to users who may not be familiar with technical terms or industry-specific jargon. By interpreting these queries, ChatGPT on Azure OpenAI service can help provide you with helpful responses.
Moreover, ChatGPT Azure can be customized to specific business needs through specific functionalities, such as the upload of a JSONL file. This feature allows businesses to provide more personalized responses and accurate information based on their unique requirements. The JSONL should be provided in a specific way. Even if you have some familiarity with this area, you may want to note that for ChatGPT the way and format of the JSONL file may differ from before as ChatGPT is a very different kind of model. ChatGPT is not like the other models that came before it. The  concept of "training" with ChatGPT is actually quite different, even different enough that previous methods that may typically be associated with "training" models "in general" (including the models that were previously on OpenAI prior to ChatGPT, such as ada, babbage, curie,  even davinci, and so forth) may not be as effective with ChatGPT as a different kind of way that may be more effective.
NOTE: As of 4/18/23, note that using a JSONL file to train ChatGPT models in Azure OpenAI may or may not be currently supported or implemented. While it's possible it may be in the future, we do not know if, or when, something like this will be supported in the future.
This stuff moves fast, and even the official Microsoft documentation on Azure OpenAI Service may not necessarily go into the specific nuances of ChatGPT, as the other models were around for longer and "training" was usually done with these previous models, and some of these previous methods may not be as effective with ChatGPT as something else, which may or may not be found easily in documentation. What worked for Azure Cognitive Services or even OpenAI's previous models, may not be quite as effective for ChatGPT, as ChatGPT is a very different kind of model.
In order to understand how to leverage this JSONL feature most effectively for your success, (and others not mentioned here), effectively, you may want to inquire to Dynamics Edge for more information and detail on this, as it may help you get the edge on the fast moving future (or more like, the fast moving present, to be honest with you).
Your industry can leverage ChatGPT Azure today to help you increase productivity – not necessarily tomorrow anymore, but – today! For example:
Healthcare: ChatGPT Azure can help patients with queries about their medical conditions or provide remote care services, while healthcare providers can use it to monitor patients post-procedure.
Finance: It can assist customers with banking services like account balances, fund transfers, and automatic payments. Additionally, it can provide investment advice and answer questions about financial products.
Retail: ChatGPT Azure can help customers find products, offer recommendations based on preferences, and answer questions about shipping and returns.
Remember to clean up resources after testing ChatGPT Azure by deleting the resource group associated with it. To learn more about working with ChatGPT and the gpt-35-turbo model, inquire to Dynamics Edge and see how we can help you learn more about how to leverage ChatGPT on Azure to boost your productivity.
Contact Dynamics Edge now to learn how you can transform the way you work and soar to unbelievable heights.
Have a Question ?
Fill out this short form, one of our Experts will contact you soon.