Dynamics 365 Human Resources Management Workshop: Create a workplace where people and business thrive
Dynamics 365 Human Resources – Empower employees to get the information they need through easy-to-use self-service HR tools and Microsoft Teams.  Automate processes to increase efficiency. Decrease operational expenses and financial complexities.
Dynamics 365 Human Resources Management Workshop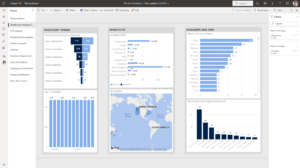 Dynamics 365 Human Resource Management in one application
You will Learn:
Configure the most important Dynamics 365 Human Resources  features.
Process Dynamics 365 Human Resource transactions.
Learn Dynamics 365 Human Resources  features and functionalities
Dynamics 365 Human Resources Management Workshop
Dynamics 365 Human Resources.  Learn the important features and functionalities needed by Dynamics 365 Human Resources  Management.  Product information, how to configure, create, and manage resources.  Lectures and several hands-on exercises based on a case study Each exercise will be bases on a business scenario followed by a question or discussion then a step-by-step guidance to perform the system related steps.
Human Resources home page
This topic provides a list of the help topics and other resources in Dynamics 365 Human resources.
Select a feature area to learn more about it.
Human Resources connects people and operations data to help you optimize workforce costs and take care of your employees.
Employee and Manager self service
The functionality noted in this topic is currently available for customers on the stand-alone Dynamics 365 Human Resources. Some or all of the functionality will be available as part of a future release on the Finance infrastructure after Finance release 10.0.25.
Applies to these Dynamics 365 apps:
Human Resources
This article provides an overview of the Employee and Manager self service workspace.
Edit personal details
If you need to add or change any personal information, see Edit personal information.
User not assigned to a worker record
If you haven't linked your user to a Worker record in the Users page, the following message will display:
Your user ID is not associated with your employee record in the system. You won't be able to view or update your information until it is. Contact your manager or support team for assistance.
To associate a user with a Worker record, navigate to Users and select the user. Select Edit, add the corresponding worker in the Person field on the page, and the select Save. You should now have access to Employee self service.
Security requirements for Employee and Manager self service
Employee and Manager self service require two security roles:
Employees require the Employee role.
Managers require both the Employee and Manager roles.
Note: You can also use custom roles to access Employee and Manager self service as long as they've been granted access to Employee and Manager workspaces.
Manager access to employee information is based on the current position line hierarchy defined in Human Resources.
Employee self service
The My information tab displays the following information for Employee self service.
Summary
Work items assigned to me displays all approvals and workflow items that are assigned to the employee. You can configure workflow items to send emails to the user.
Questionnaires assigned to me display all scheduled questionnaires assigned directly to the employee or group.
Company directory lets employees look up information related to individuals in the organization. Public contact information is available to all employees. The company directory is restricted to the company that the employee has signed into.
Team calendar shows your team's calendar information. For more information, see View team and company calendars.
Is this the Right Dynamics 365 Human Resources Management Workshop for You?
The Dynamics 365 Human Resources  functional consultant is a key resource that designs and configures Human Resources apps to meet the business requirements. Analyzes business requirements and translates those requirements in a working Business Model.
Course Outline
Module 1: Human Resources Overview
Dynamics 365 Human Resources
Optimize Human Resources programs
Dynamics 365 Apps and Integration
Module 2: People Management
Deployment
Dynamics 365  Apps
Dataverse and Dynamics Apps
Advanced Configuration
Module 3: Compensation Management
Create flexible compensation plans
Packages and Benefits
Benefits management
Module 4: Leave and Absence Management
Module 5: Employee and Manager Self Service
Employee HR Portal
Simplify Administration
Automate process and workflows
Module 6: Employee development
Skills Management
Certification Management
Education and Learning
Module 7: Organization and Personnel Management
Simplify benefits
Compensation,
Compliance programs
Module 8: Employee Transfer Management
Policies and Compliance
Relocation benefits
Module 9: Performance management
Make Decisions using the embedded Analytics
Capture employee insights with Dynamics 365 Customer Voice
Module 10: LinkedIn integration
Intergrade Talent Acquisition Systems (ATS)
Linked Talent Solutions
Module 11: Reporting and Analytics
Discover workforce insights
Microsoft Power BI and Dynamics 365 Human Resources
Dashboards & Reports
Module 10: Review
Related Courses:
MB-300 Microsoft Dynamics 365: Core Finance and Operations
MB-310 Microsoft Dynamics 365 Finance
MB-320 Microsoft Dynamics 365 Supply Chain Management, Manufacturing
MB-330 Microsoft Dynamics 365 Supply Chain Management
MB-340 Microsoft Dynamics 365 Commerce Functional Consultant
MB-500 Microsoft Dynamics 365: Finance and Operations Apps Developer
MB-300 and MB-500 D365 Developer  and Power Apps Integration Workshop
MB-700 Microsoft Dynamics 365: Finance and Operations Apps Solution Architect
MB-800 Microsoft Dynamics 365 Business Central Functional Consultant
MB-910 Microsoft Dynamics 365 Fundamentals (CRM)
Related Certifications:
Contact Us or Live Chat if you have questions or concerns about Microsoft Technical Course.
Need help picking the right course?
Give us a call!
408-684-5250 or
800-453-596 (Toll Free)
Train Your Team
Save money and get your team trained. With a group of 5 or more people, you have special options. Click the button below to request a special quote for your team now!